Appointment Completion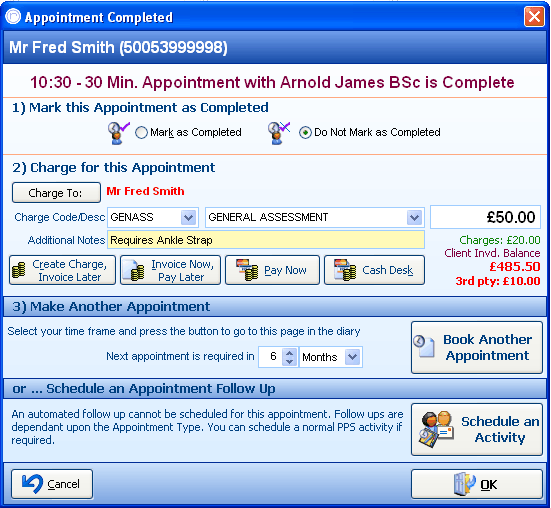 Appointment Completed
When an appointment is marked as completed (Either from the Appointment diary, Appointments Daily list screen or the Clients Log) The 'Appointment Completed' Screen will open up with the options of raising a charge, making further appointments for the client in question and creating a follow up activity for the client to be contacted in the near future.
Charging for this Appointment
The charges section will show a more condensed version of the 'Create a Charge' accounts screen. Here you can choose who to charge from the 'Charge To' button, the charge itself, and whether or not you wish to simply raise the charge, raise the charge and the invoice, or raise the charge, create the invoice and record the payment in one fell swoop. The cash desk button opens up the cash desk screen if you require to raise more than one charge for the client.

This section will also display any warning notes from the accounts section for this client, and various balances on if charges are yet to be invoiced, what the client owed or credit balance is, alone with the 3rd party balance.
Make another Appointment Or Schedule an Appointment Follow Up
Optionally when the appointment has been completed, there is the ability to book a further appointment for the selected client - Once a date is selected, clicking on 'Book another appointment' will take you to that date in the PPS appointments diary.

Alternatively there is the choice to schedule an activity for the client for a future date.
---