Banking and Reconciliation List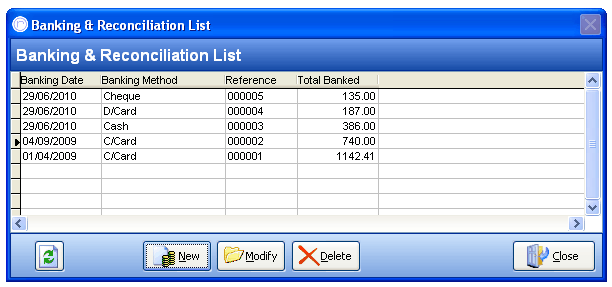 Banking and Reconciliation List
The banking and reconciliation list is an area within PPS that records your weekly or monthly banking dates for cash, cheques and so forth. This helps keep record in the event of a financial report or statement that needs to be reconciled with monies recorded and banked within PPS, for any reason.
The list itself shows exactly what is recorded from each banked payment type for each date. New records can be added and modified, along with being deleted. Banking date, method and reference can be ordered by clicking on the above column heading. The reference for each set of banked monies is automatically allocated.
When clicking on the 'New' Button from the Banking & Reconcilliation List, you are able to select the payment method you wish to assign a banking date to. Alterntively you can click on 'Modify' to alter existing banked payment sets.
Once you have chosen your payment method, the list will display a host of "un-banked" payments. As an example, if you have received three cash payments on a Monday, and banked them on the Friday, you will simply need to select the three payments via the selection box on the right hand side and then asign a banking date on the top right field and then finally either click on "Save & Close" to come out of this screen, or click on "Save & New" to bank that money and continue working on this screen – Again, an example of this would be if you then need to bank further payments received on the Tuesday which may have been banked on the following Monday.
Additionally, you have the search option in the bottom left of the screen to search for a specific client by typing their name and then hitting 'Enter' on your keyboard.
---