Blocked Appointments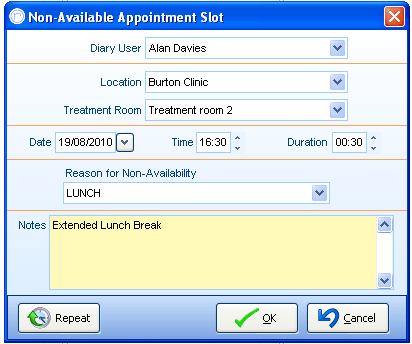 Non-Available Appointment Slot
A Block Appointment is a special type of non-client appointment that allows the practioner to block out their time in the diary. This can be for breaks, meetings, teaching sessions, etc.

A Block Appointment is added in the same way as a normal appointment. It has a date, time, duration, diary user, treatment room & location (the last two are both optional).
Reason for Non-Availaibity
A Block Appointment has a "non-availability reason" associated with it. This is a list of standard entries from a look up table that you set up yourself.
Further Info
Like with normal appointments, you can cut, copy, paste, drag & drop, add, modify, delete and repeat block appointments in exactly the same way as normal client appointments.
---