Client Log Screen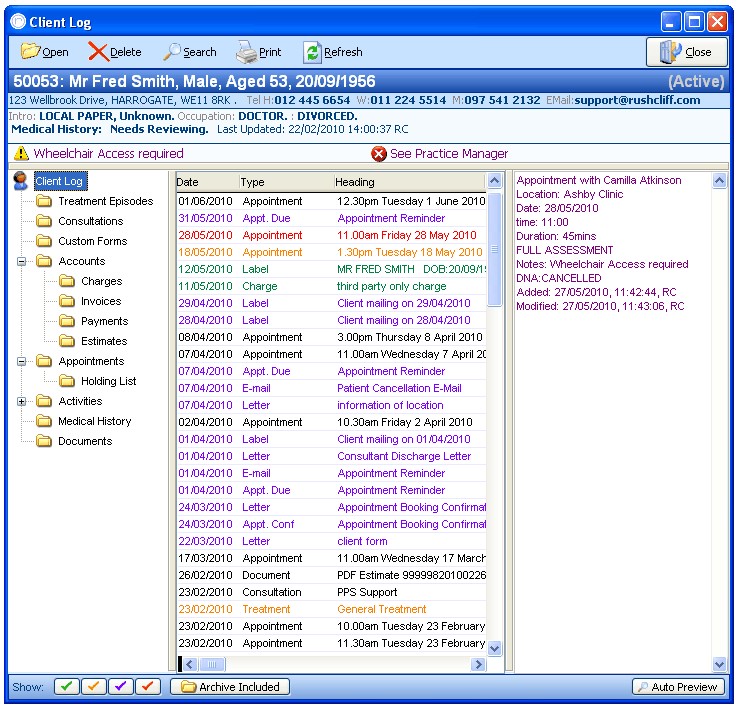 Client Log
The PPS Client Log is a screen that shows a comprehensive range of information for each individual client. Firstly the client name, address and contact details, then a summary of the information from the Main Client Details that you have selected to show on the Client Log screen. This includes profile, contact and notes details.
Folder Structure
The "folder" structure on the left of the screen can show selected categories only. For example, if you click on the "Appointments" folder, then the main list will only show appointments. Some of these folders have "sub-categories" – use the small + button next to the folder to open up any sub category folders to define your main list even further.
The main section of the Client Log screen shows a "journal" of all records you have created for that client. Any records in the Client Log can be shown in the "Journal" list by highlighting the record and selecting Open from the toolbar, or by double-clicking on the entry in the list.
Auto Preview
You can switch on/off, an Auto-Preview pane, which will show details of the currently selected record in the list. This can save time if you compare this method to opening each individual document that you wish to view.
Certain record types can be printed from the client log, such as Invoices and clinical notes records. Just highlight the record in the list and click the Print button.
Colour Status
Certain records in PPS such as Appointments, Accounts, and Activities use colours to indicate their status. At the bottom of the Client Log screen there are several "Status" buttons that you can select to "filter" records shown in the list, for example you can select to include/exclude records with a Purple (completed) status. The default setting is to "include" these records, click each button to "exclude" these records from the list -you will notice that the tick then has a line though it when excluded.
---