Creating a Charge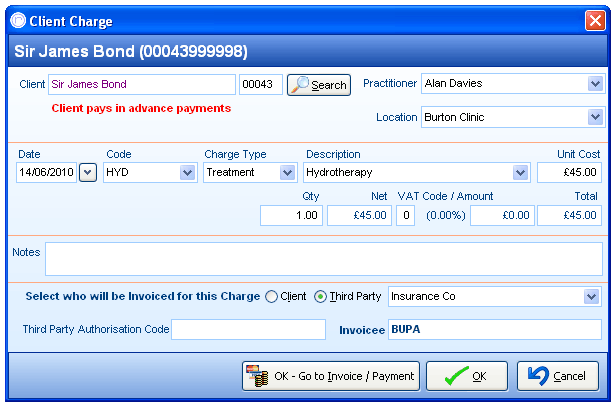 Client, Practioner and Location
A charge is the first step for PPS billing. You have to create a charge before you can raise an invoice . Selecting a client and practioner is mandatory, however charge location is optional. Using locations with charges does offer further benefits for accounts style reports. This area will also show any accounts notes for that client in red.
Selecting a Charge
The date is automatically selected, but can be altered if required. Clicking on the 'Code' or 'Description' dropdown menu brings up a list of created charges from the system. Clicking on the 'Charge Type' allows you to filter the dropdown to a further degree when selecting the charge type first before then select the charge itself.
All fields will be filled in with the information from the charge itself. These details can be altered if required including the VAT rate.
Notes
Any specific notes for this appointment or charge are entered here. Anything entered will also show in the charge decription area on any printed invoices.
Selecting Invoicee
A charge can be raised to the client or to any third party the client is associated with via the client details screen. If the client isn't associated with any third parties, there is the option to associate a third party as well from the drop down selection.
Third party authorisation codes can also be entered here, which can be entered once the third party has been selected firstly. Once all the information has been selected and entered, you can click to go to the raise invoice screen, or alternatively pressing the OK button will create the charge and leave it sitting on the clients account to be raised into an invoice at a later date.
---