Document Library Records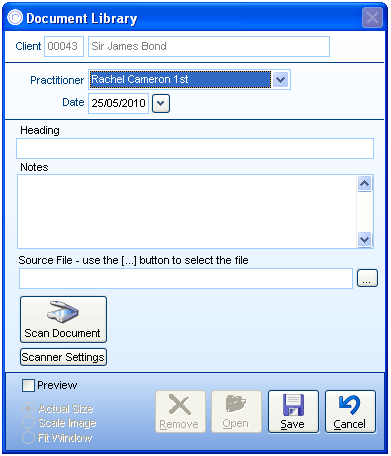 Document Library
The document library area is used to simply attach an existing file from your PC to your clients log, or to use your current scanner to scan in a paper-based document and automatically attach this to your clients log.
PPS will automatically choose the current client being used on the system. If there is no client to use, it will ask you to search for the appropriate client. Once selected it will assign the current practioner and the current date to this activity.
Heading and Notes
The heading you type in is the heading that will be visible on the clients log as the document name. The notes field is optional and is there to record anything you may require.
Selecting an Existing File
Any document that is accessible from the PC you are currently on can be attached using the '...' button. Any file type can be selected, of any size. If you syncronise your PPS system with others, and require this document to be accessible at other systems, please make sure that the document size is under the PPS Sync Server file size limit.
Scanning a Document
When scanning a document into PPS, it will automatically attach itself to the document library for the client that has been select. You will need to enter in a document heading before scanning in the document. Settings can be changed for the scanner by using the button underneath. There are a variety of settings in here, but the most notable area is the "Graphics and File Settings" tab, whereby the quality of the scanning resolution and the file type can be selected, which can great effect the size of the document created.
TIP: A scanning resolution of "72" and a file type of GIF will vastly reduce the size of the documents created, and will help with the syncing of PPS documents.
There is an optional preview tick box that can be selected, with options to scale the image into the preview area if required.
Saving, Opening and Removing the Document
Once the document has been attached or scanned in, it can then be saved, or opened up. To remove a document from the clients log, you will have to open the document library screen first, before proceeding to remove the item.
---