Medical History
Medical History
The medical history is primarily set up in the form of a Yes/No answer questionnaire. For each question, you can select to be alerted if Yes, or No is answered (as appropriate) to each question. To set up the medical history questionnaire, select from the PPS Menu: Tools > System Setup > Set Up Medical History.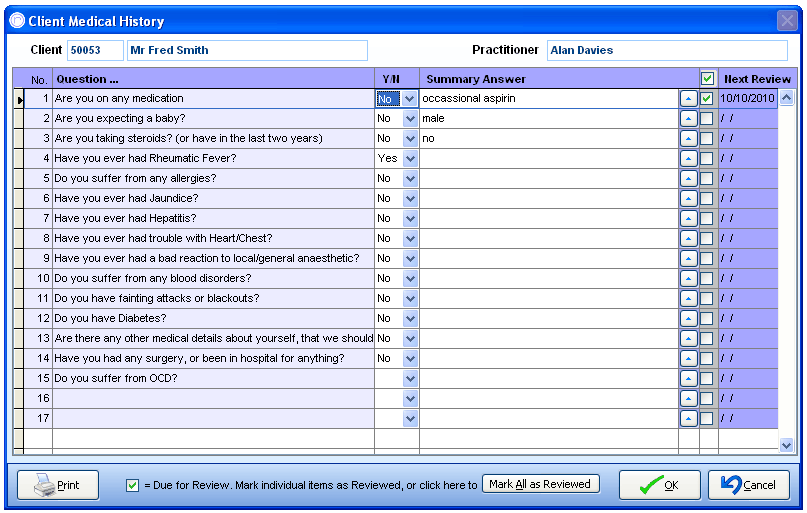 From the main client details screen, using the 'History' button on the client screen toolbar will show the medical history. Once the questionnaire is completed, any questions that have been answered "adversely" will be shown in the Client Log screen, and in the Medical History drop down section of the Consultation screen in the top right hand corner. You can update the medical history details while reviewing them if necessary from either of these screens.
Summary and Review
Along with answering Yes or No to questions, you can write a summary description to go along with the answer, along with marking a review date for that question, so that if the client has a condition that needs to be reviewed monthly, PPS can notify you that there are questions awaiting to be re-evaluated.
Did you know? You can run reports based on medical history questions and answers to specify clients who have answered yes or no to specific questions...
If more than one question is outstanding and awaiting a review, PPS can mark all questions as reviewed by clicking on the 'Mark All as Reviewed' button.
There is also the ability to print out the Medical History form if required by simply using the print option in the bottom left.
---