PPS Cash Desk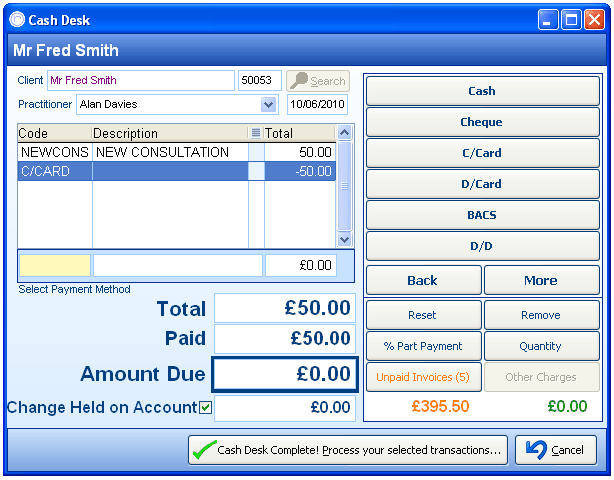 Cashdesk
PPS Cash Desk is a point-of-sale style screen that can be used to quickly create charges, invoices and payments all in one step. You can access the Cash Desk screen directly from anywhere in PPS using the F11 key on the keyboard.
When the screen displays, make sure that the client and practitioner are selected before anything else. If you launch Cash Desk by clicking on an appointment in the diary first, then these details will be shown already.
Charges
You can either click on one of the Quick buttons on the top left area to select the chargeable item (more details below), enter the charge code directly into the "Code" field or double click the charge code field to select from a drop down menu/search screen (dependant on your charge list configuration in the options menus).
Cashdesk Quick Buttons
The Cash Desk screen shows chargeable items (consultation fees or stock items) in the top right corner of the screen - these are known as 'quick' cashdesk buttons. There six quick buttons that show the first six items in your list if you have define quick buttons when creating your standard charges and stock items from the look up tables area. To access more items, use the More button.
Payments
Once you have clicked on the Payment button, the six buttons in the top right now show your first six most common payment methods. use the 'More' button to see further payment methods. Select the required payment method and confirm the payment amount. You can also apply Discounts and use Vouchers on cash desk, and even use it to bill third parties, even after the client has paid a portion of the bill already
Did you know? You can create credit notes and refund payments with PPS by simply recording minus values instead of positive values...
When you are finished with recording the payment, you simply click the Cashdesk Complete button, and select if you want to print and invoice/receipt. If you have only selected a charge, you will have an optional button to click on to create charges for the client or third party account only.
Quick Button/Payment Ordering system
You can set up which charge code items appear in the list, and which payment methods appear in the list. To do this select from either the List of Standard Charges and Stock Items or Payment Methods table from the look up tables area. Both of these have a 'Cash Desk Order' entry that determines what order this item appears in the six quick buttons on the Cash Desk screen.
---