Recording a Payment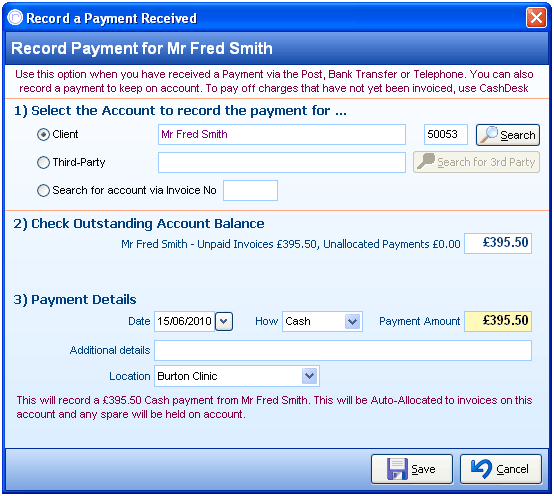 A Payment in PPS is recorded when money is received from clients or third parties. A payment must be allocated to an invoice – either immediately or in the future.
Recording a payment can be completed from the Task Bar or Accounts -> Record a Payment, or from the Payments List.
These options will all display the same screen, which is primarily designed to record payments that have been received at a later date. For example: posted cheques, BACS notification etc.
Selecting an Account
If no client is actively selected before entering the payment screen, then a client or third party will have to be selected. Alternatively if you have a complete invoice number, this can be entered in, which in turn will select the appropriate client/third party account.
Check Oustanding Account Balanace
An entire outstanding balance of the full account is displayed here - Please take note that it shows not only unpaid invoices, but also any payments that have yet to be allocated.
Recording Payment Details
Date, payment type and amounts are recorded here. Additional details can be recorded if required. Location can optionally be selected, which is often a useful reporting tool.
If a payment recorded is the full balance owed on the account or of a higher value, it will be auto allocated from this screen. If the payment being made is of a lower value than what is fully owed, PPS will then bring up the payment allocation screen so than specific invoices can be paid off with the amount recorded.
---