Searching for a Client Appointment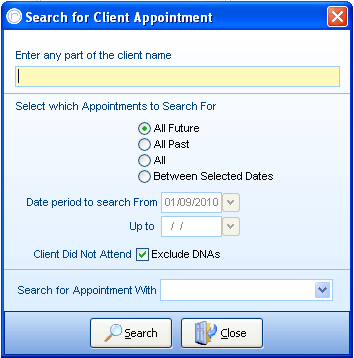 Search for Free Appointment Slot
The PPS Appointments diary provides the ability to search for a free appointment slot so that a client or an event can be booked in, sometime in the future. This search can be specified by days of the week and times, through to specific diary users, slot descriptions and locations, if these are used in the current PPS Appointments Diary.
Free Appointments Found
Once the details are entered, and there are free appointment slots available, a new screen will show each individual appointment slot free, detailing which diary user the slot is with, along with generic details like the time, date and how long the appointment slot is. Once you have selected the correct appointment slot, you can click on the "Make This Appointment" button which will send you to that free appointment slot, with the 'New Appointment' box open, ready for the client details to be entered.
---