The following guide will take you through adding availability to your PPS diary for a particular Diary User. Once availability is in place you can easily monitor where space is available for bookings for that user. It's also possible to set up availability by Room which will be covered in Section 3 of this guide.
Section 1 - Adding Availability by Diary User
a. To begin, navigate to Tools > Set Up Appointments Diaries where you will find the Set Up Appointments Diaries screen. To begin with we will be looking at adding availability based on user so ensure you have By Diary User selected in the top left corner of the screen.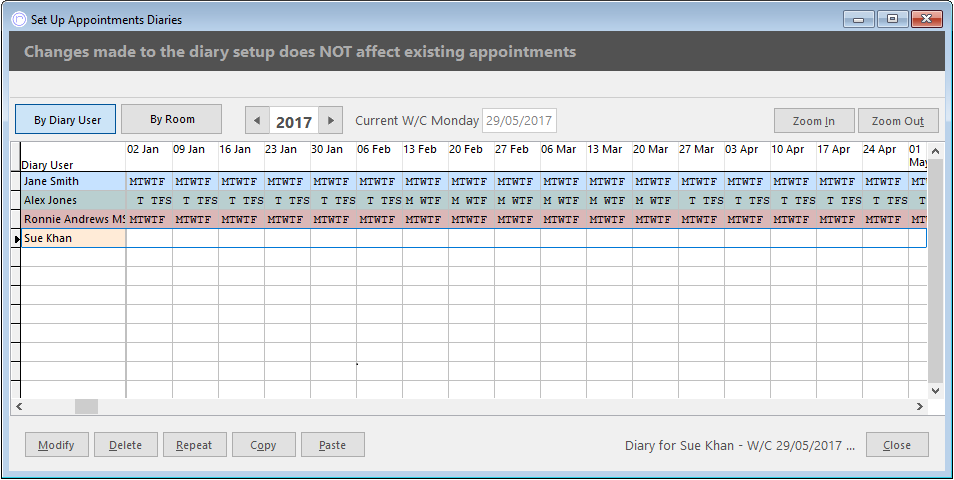 For the purpose of this guide we will be using new practitioner Sue Khan as an example. From the screenshot above you can see that her diary availability is blank, whereas the users above her have weeks of availability visible.

Each Diary User is colour coded and each cell in the availability table represents one full week. Where the letters, representative of weekdays, are visible it means that that Diary User has availability for that day on that week. Alex Jones has Tuesdays, Thursdays, Fridays, and Saturdays available through to w/c 13/02 where it changes to Monday, Wednesday, Thursday, Friday. Where the cell is blank it means there is no availability for that user for that week.
b. To begin adding availability for Sue we will start by double clicking on the week that includes the first time she will be available. In this case this will be w/c 2nd Jan. Select the cell under the correct date column on the Diary User's row and double click.
c. This will open the screen where you can begin adding sessions of availability. To add a session into this week double click on a free area under the relevant day.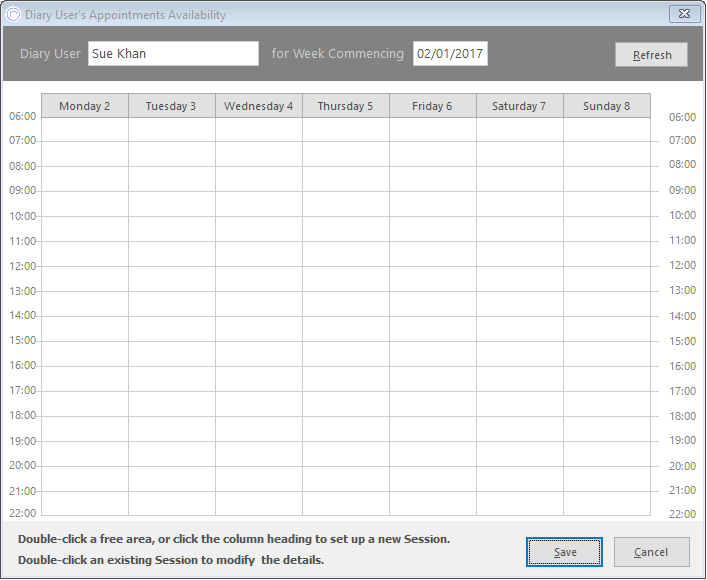 d. This will open the Set up Diary Session screen. You can choose to add availability that covers the whole day (e.g one session that covers 9-5) or use multiple sessions throughout the day. If your Diary User moves locations or rooms throughout the day then use multiple sessions to dictate where they are available at various times.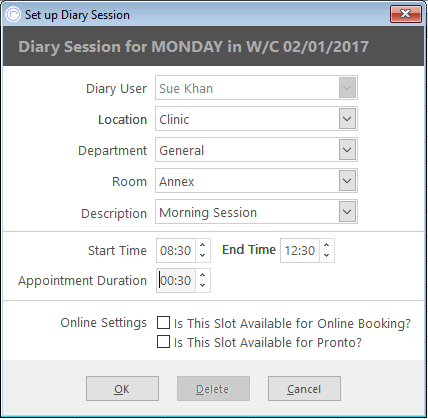 In the above example we're adding a Morning Session for Sue. We'll leave a gap between this session and the Afternoon Session for Sue's lunch. You can add breaks into your diary in this way or use blocked slots, details of which can be found here.
Sue is only available at this time at Clinic in the Annex. This means that if we were looking at the diary just for Treatment Room 2 we would not see any availability for Sue at this time. If you have Locations set up on your system you will need to choose one here, but a room is not compulsory.
You can set an appointment duration that you'd like to assign to this session. This will dictate how long the slots that appear in the diary at this time are. Sue will have a series of 30 minute slots.
If you use Pronto and/or Online Booking then set whether this session should be available for those here.
Click OK once you've completed the session.
e. Continue to add sessions in this way until the availability for this week is correct. Press Save once done.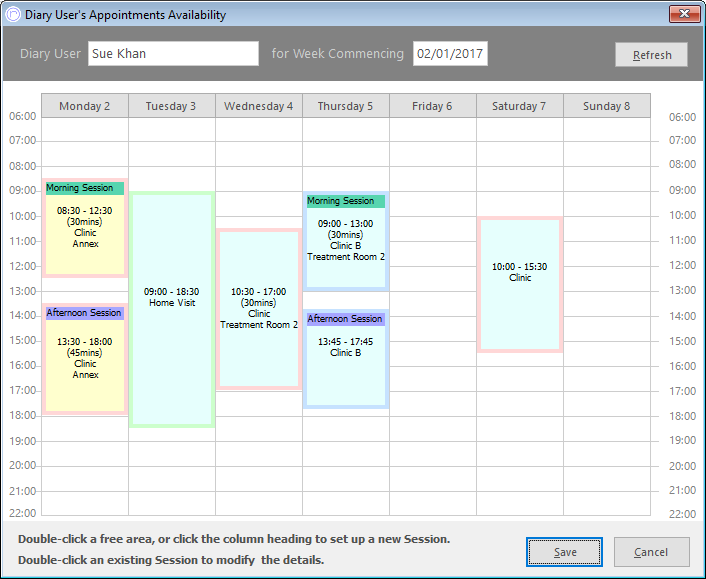 Section 2 - Repeating Availability
a. Now we've successfully added Sue's first week of availability we need to repeat it further so that she continues to have availability. This can be done by either copying and pasting the week into other weeks as required using the Copy and Paste buttons or using the Repeat function.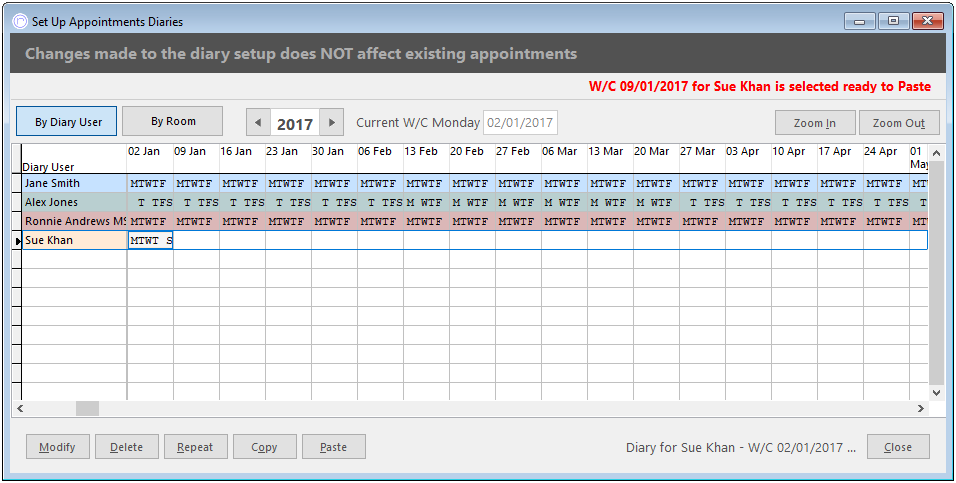 b. To Copy and Paste a particular week select the cell that contains the week and choose Copy, then select the week you want to duplicate to and choose Paste. You can copy and paste across Diary Users if required.
c. To repeat the availability forward highlight the relevant week and choose Repeat at the bottom of the window. You'll then be presented with Repeat Options where you can choose how the week should be repeated and for how long.
You can choose either to repeat for a certain number of weeks or up to a particular date. Click OK once done.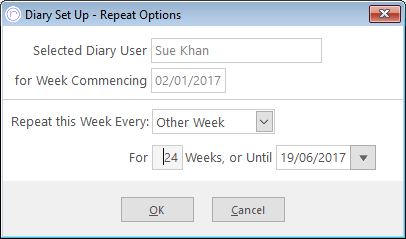 d. You'll now see the availability repeated as required. You can continue to modify individual weeks, copy and paste or repeat over the top of existing weeks.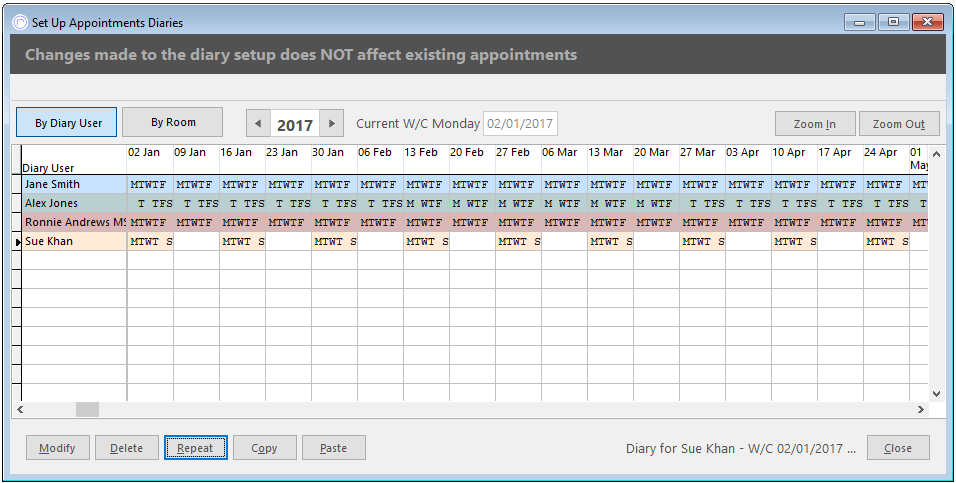 Section 3 - Adding Availability by Room
a. Choose By Room at the top of the screen to view availability by Room instead of Diary User. Setting up availability by room work in the same way as Diary User, and any Diary User availability already assigned to Rooms will already be displayed here.