PPS has the ability to notify each diary user via SMS or E-Mail if an appointment is booked with them or if an appointment booked with them is DNA'd. This is set up on a per-practitioner basis, meaning that it is possible to have this feature enabled for some but not all diary users if you so choose.
a. To make use of this feature, you will first need an Activity Template to use for the appointment booking confirmation and/or the DNA notifications. These can be templates that you already have set up on the system, or you can set up new ones within Tools > Activity Templates. The template can be assigned to any category.
b. Once you are ready to assign the template go to Tools > Set Up Practitioners and System Users and Modify the practitioner in question. Within here, click on the Preferences tab: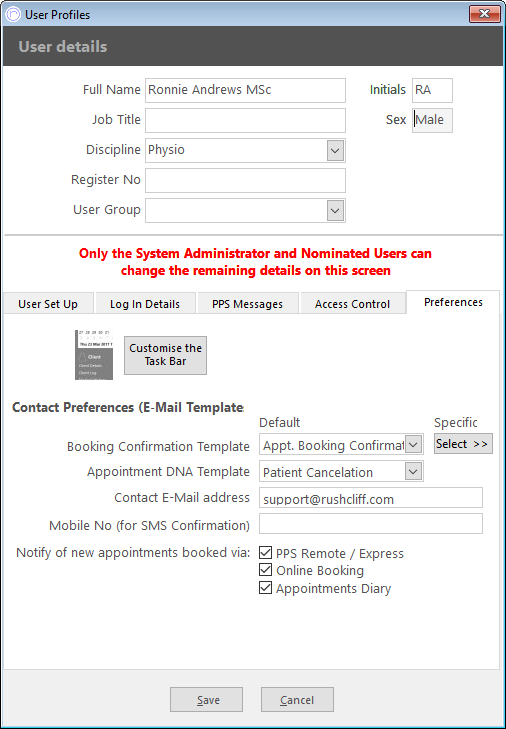 c. The Appointment Booking Confirmation Template dropdown will let you select which template to use to notify the practitioner whenever anyone is booked into their diary. Choosing one template from the dropdown will assign this template to all cases where a confirmation is sent. If you would like to tailor what is sent a little more then you can use the "Specific" option found to the right of the dropdown. Press Select to make changes here.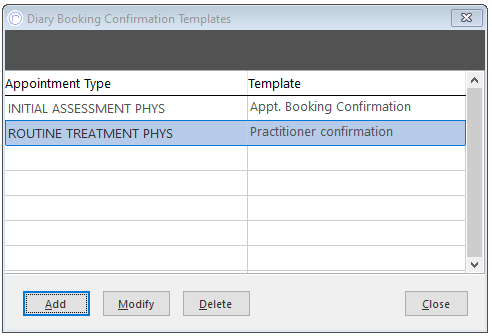 From here you can add or Modify entries where a specific template may be required for particular appointment types for that practitioner. You can also choose to only enable confirmations for only some appointment types using this feature.
d. The appointment DNA template is for clients who have cancelled and been marked as DNA in the diary. Choose an overall template for this using the dropdown.
e. The contact email address and mobile number fields can have either one or both filled in, and these are where the notifications will be sent. If both are filled in, and the templates selected in the first two dropdowns have both E-Mail and SMS set up then the practitioner will receive both an E-Mail and an SMS each time.
f. The final section within this set-up controls what sort of bookings the practitioner will want to be notified of. These will not all necessarily be applicable to your system, depending on whether you have online booking or a Remote/Express system alongside your main PPS. The "Appointment Diary" option applies to all appointments added using the main PPS diary. The example in point b. shows a practitioner set to receive notifications for appointments that have been booked in for all of these options.
g. Once you have set all of this up, you can click Save and then repeat the process for any other practitioners that require notifications.