The following guide will take you through the configuration options of the Accounts elements of PPS.
a. To access the screen from which you can configure PPS Accounts options navigate to Tools > Options > General System Options > Accounts.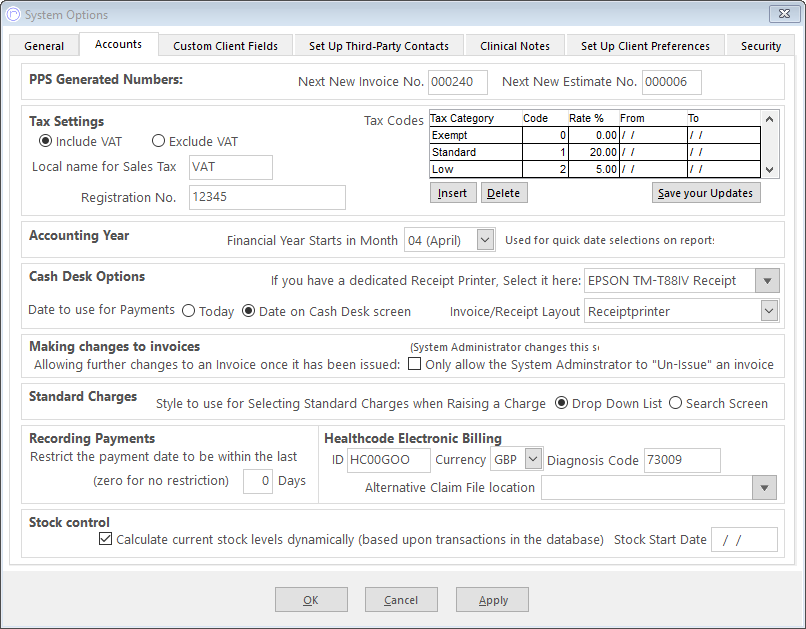 Please see below for details on each of the options available in this screen.
PPS Generated Numbers: The figures shown here identify the number that will be assigned to your next generated Invoice and Estimate. You will normally only need to set these numbers once when initially setting up PPS but should you wish to make changes to the next number in the sequence you can do so here. Any number you enter here will be assigned to the next invoice/estimate you produce and will make no changes to those already existing on the system.
Tax Settings: Here you need to select if your company is registered for Sales Tax. Should your local Sales Tax be called something other than "VAT" you can change this in the "Local name for Sales Tax" field and also enter your registration number. From this section you can set up and alter your tax codes. Make changes to the category names, codes, rates and dates as per your requirements by typing into the boxes. Use the Insert option to create additional fields and highlight any codes you wish to remove and choose Delete to do so. You will need to save any updates you make to the tax codes using the Save Your Updates button as they are saved separately to the rest of the details on the screen.
Accounting Year: Here you can alter the commencing month of the financial year to suit your reporting requirements.
Cash Desk Options: When raising charges through Cash Desk you can opt to have the payment date always marked as "today" or whichever date you set on the cash desk, which may differ from the today's date.
In this section you can also set a receipt printer and layout should you wish to produce a receipt when using Cash Desk. The default layout available is "Receiptprinter" and can be modified via Tools > Layout Designers > Invoice Layout. Find more information on receipts here.
Making changes to invoices: This option will allow only the System Administrator to reverse the "issued" option on an invoice in order to make changes.
Standard Charges: Choose how your standard charges appear when raising them via Cash Desk or Create A Charge. For systems with a large number of standard charges we recommend using the Search Screen option for optimum speeds.
Recording Payments: Enter a figure here to restrict the dates applied to payments to a certain range. E.g, input 10 to stop users adding payments for a date greater than ten days away.
Healthcode Electronic Billing: Enter your Healthcode details here.
Stock Control: If you enable dynamic stock calculation PPS will produce stock totals based only on transactions (charges raised, stock input) recorded on the system rather than by any manual adjustment. You can also set and adjust the stock start date here. PPS uses this as the from date when making dynamic calculations and will give totals from this date forward. You can leave this blank to include all records on the system.