PPS Estimates allow you to compile charges for clients in order to view the potential balance owed without actually raising the charges.
a. To begin adding Estimates navigate to Accounts > Estimates List.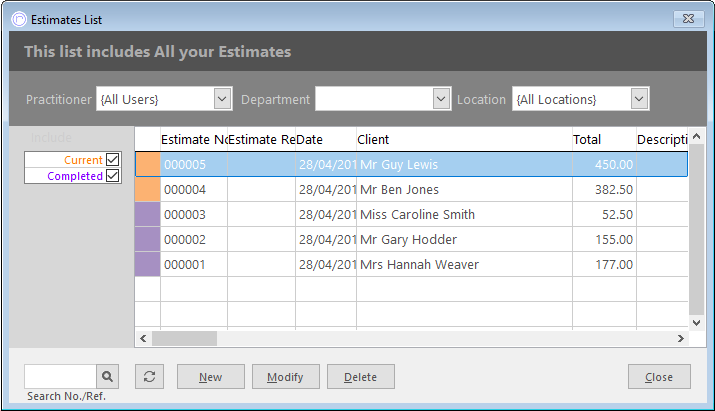 b. From here you can view and access any existing estimates you may have. Highlight an existing entry and choose Modify or choose New to create a new estimate.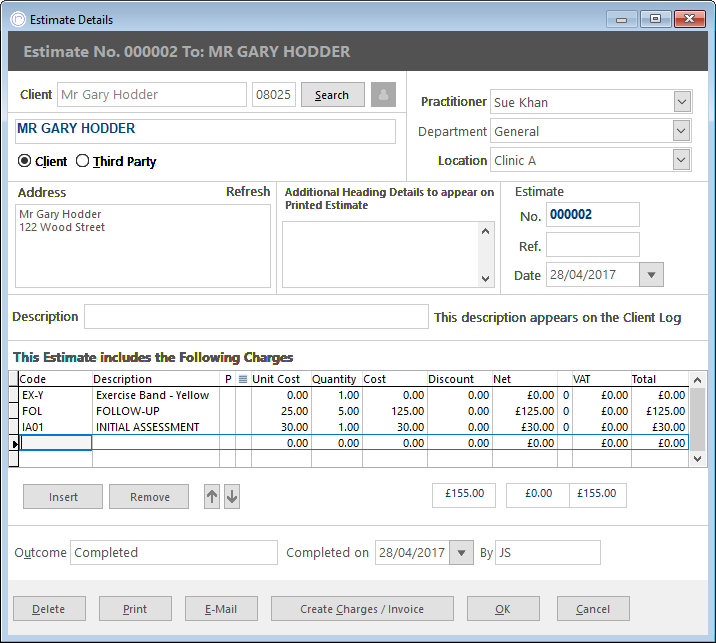 c. From here you can select the client or third party you're creating the estimate for. Select the relevant practitioner, department, and location and add any notes or reference information. The estimate number is automatically generated and will pull from the next new estimate number which can be changed via Tools > Options > General System Options > Accounts.
Add a Description if needed, this will appear in the client log.
d. Add charges to the estimate by selecting the top empty row in the Code column. In here you can type part of the charge code or description and hit Enter to open the charge search where you can locate and select the correct charge. Repeat this step for all the charges you want to add and make any changes to the additional columns for unit cost, quantity, discount, etc.
Remove any charges by selecting them and pressing Remove or alter the order in which they appear using the up and down arrows.
e. To complete an estimate without raising any charges press "Outcome" towards the bottom of the screen or simply choose OK to leave the estimate outstanding.
f. You can print or E-Mail the estimate using the options at the bottom of the screen. The layout used to export estimates can be found via Tools > Layout Designers > Estimate Layouts. Find information on Layout Designers here.
g. If you want to turn the estimate into legitimate charges raised against the client or third party then choose Create Charges / Invoice.
The charges will be raised and you'll then be given the option to create an Invoice with them in.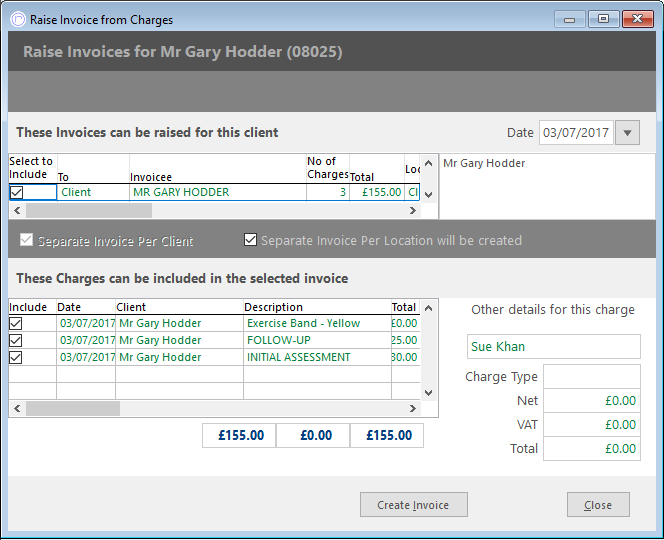 Review the charges and choose Create Invoice to raise the invoice or Close to leave the charges un-invoiced. They can then be invoiced at a later date. If you raise the invoice you'll then also get the option to mark it as paid.
Tip: Find full details of the PPS Billing Process here.
h. There is an Estimates List report available via Reports > Reports & Mail Merge > Accounts which allows you to review estimates based on criteria set by you. Find general information on how to tailor PPS reports to suit your needs in our general reporting guide.