In PPS you can print a payment receipt via your normal printer at any time much in the same way as you would an invoice or statement of account. Alternatively, you can use a dedicated receipt printer to produce a receipt in a till drawer fashion each time you complete a transaction using Cash Desk. You'll find information on both of these options in this guide.
Section One - Printing Payment Receipts to your Standard Printer
a. You can print standard payment receipts from the following screens:
- Accounts Screen: Navigate to the Accounts screen for the relevant client or third party. Select a payment and choose Print at the top of the screen followed by Print a Payment Receipt.

-Log: Open the client or third-party log from either the Client or Third-Parties menu. Find and select the relevant payment and choose Print at the top of the screen.
b. You can then preview or print the receipt. The template that is used here is hard coded and cannot be modified though it can use your standard PPS letterhead details.
Section Two - Printing to a Receipt Printer
a. For a receipt printer to work alongside PPS it should have a Windows-style printer driver. We have tested PPS with the Epson TM-88iv receipt printer.
b. Navigate to Tools > Options > General System Options > Accounts where you can select your receipt printer along with the template you want to use when printing receipts to it.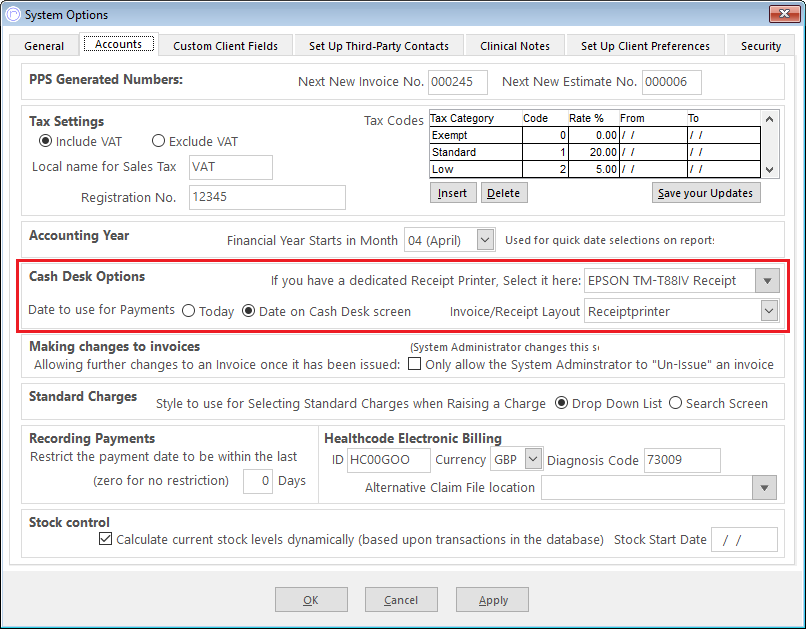 c. Select the Receipt Printer and Invoice/Receipt Layout and click OK . The invoice/receipt layout comes as default and is called "Receiptprinter". This may need to be modified to suit your exact requirements. You can do this via Tools > Layout Designers > Invoice Layouts. Locate the reciptprinter template here and use the Layout Designer to make any necessary changes. Find details on using the Layout Designers in PPS here.
d. Once the printer and layout are selected, then Cash Desk will automatically print a receipt when you complete the Cash Desk screen.