While PPS is not a dedicated stock control system, it does include simple stock level management. In addition to stock levels, PPS has the ability to manage Stock Batches. This is useful for keeping track of stock items that are perishable or come with a set expiry date.
The following guide will introduce you to adding stock items and batches into PPS and making adjustment to stock levels including through charges raised to clients.
Section One - Standard Charges and Stock Items
a. In order to start treating an item as stock in PPS you'll need to add it in Standard Charges and Stock Items. Add the item as per the details in this guide via Tools > Look Up Tables > Standard Charges and Stock Items or go there and Modify an existing entry to make stock changes to it.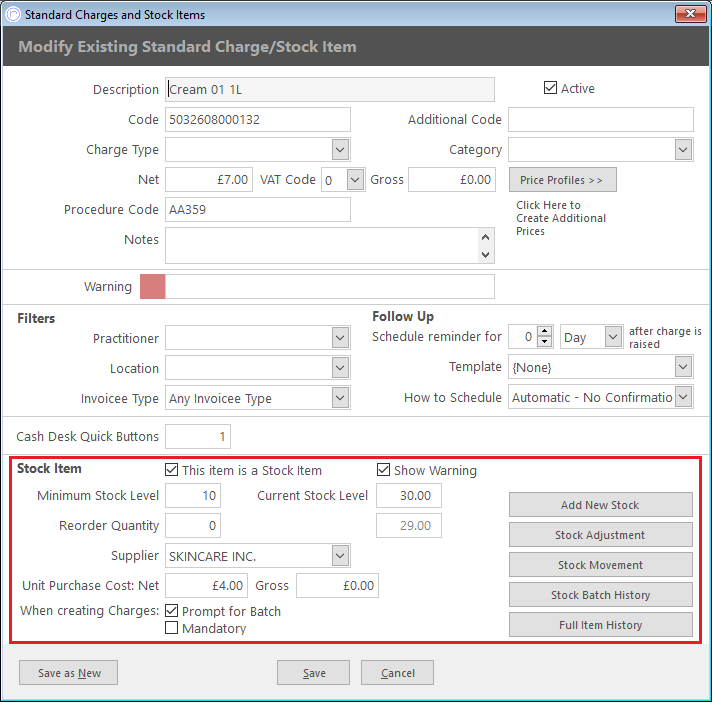 b. All stock control options can be found in the latter section of each Standard Charge screen. If the item you have chosen is not yet marked as stock then do so by ticking This item is a Stock Item.
Tick Show Warning if you'd like to be notified via a pop-up whenever you raise this charge and the stock level reaches the Minimum Stock Level. You can also record a Reorder Quantity here which will be visible in your reports.
Suppliers are added to your system via Tools > Look Up Tables > Suppliers. You can find a video on this in the Watch Video tab of our Expenditure Management guide. Once added they can be chosen from the drop down here and associated to the stock item along with the Unit Purchase Costs.
If you'd like the option to select Batch Details when dispensing this item to clients then tick Prompt for Batch No.. More information on how this appears can be found further in the guide. You can choose to make batch selection mandatory for this stock item by also ticking that box.
Stock Level
a. In PPS there are two methods of stock level calculation. Dynamic calculation totals stock levels entirely based on transactions within your PPS database e.g; charges raised, stock adjustments, stock batches. It cannot be manually altered. Dynamic calculation is enabled or disabled via Tools > Options > General System Options > Accounts > Stock Control. With this enabled the Current Stock Level field in the Standard Charges and Stock Items screen can not be edited. If you disable dynamic calculation then the level can be manually changed without recording any stock adjustment. Only the System Administrator can enable or disable this option.
Add New Stock
a. Choose Add New Stock in the Standard Charge screen to add a new stock record or batch.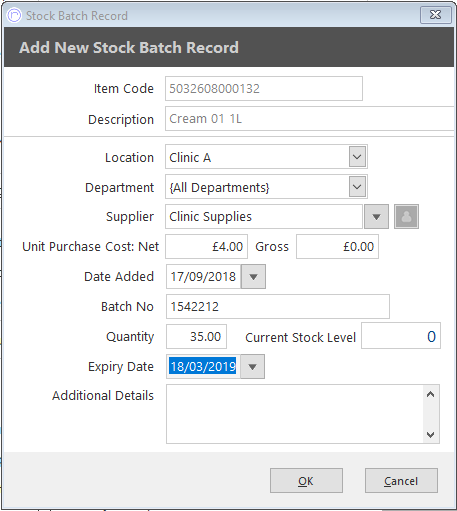 b. Enter details here such as the location of the stock and any department it has been assigned to. You can then also choose the supplier.
You now have the ability to record a unit purchase cost for stock batches making it really easy for you to keep track of costs from different suppliers and batches.
Extra Information: The Net Cost settings will only work in the system if you have selected to include VAT in your Tax Settings. You can find these settings by going to Tools > Options > General System Options > Accounts.
When adding a new stock batch you will see the options to add the unit purchase cost and this will work out the cost of the sale for the item in the selected batch.

Add the date added and the batch number in the Batch No field and record the batch quantity. This will be added to your existing stock level for this item which is displayed on screen.
Optionally, you can record the expiry date for this batch and any additional details.
Extra Information: You can also add batches via Tools > Look Up Tables > Stock Batches. This screen allows you to view and add batches for all stock items on your system from one place.
c. Click OK to add the stock record.
Stock Adjustment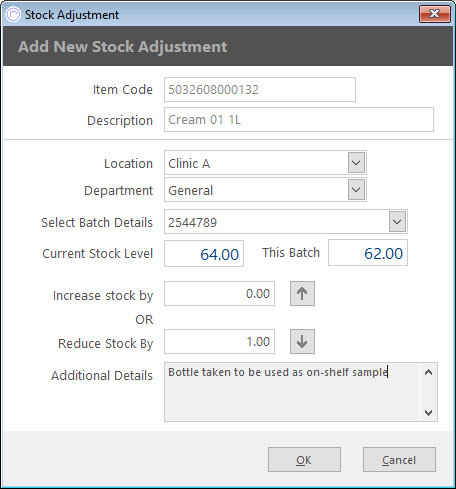 a. Use the Stock Adjustment tool to record changes to the stock level for a particular item without adding new stock batches or creating charges. Choose to relate the adjustment to a particular location, department, and batch where necessary.
Stock Movement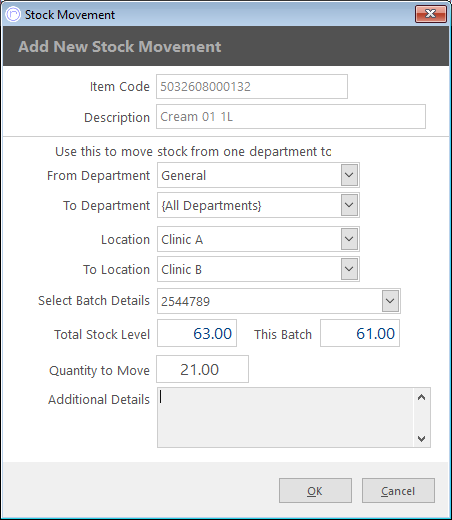 a. Use this tool to transfer stock numbers from one department or location to another.
Stock Batch History and Full Item History
a. Use these screens to review past transactions relating to this stock item
Section 2 - Dispensing Stock
a. Now that your standard charge has been added as a stock item each time you raise an instance of it as a charge it will affect the stock level. If you've chosen to be prompted for batch numbers when raising these charges then the following screen appear each time that charge is raised for a client or third party: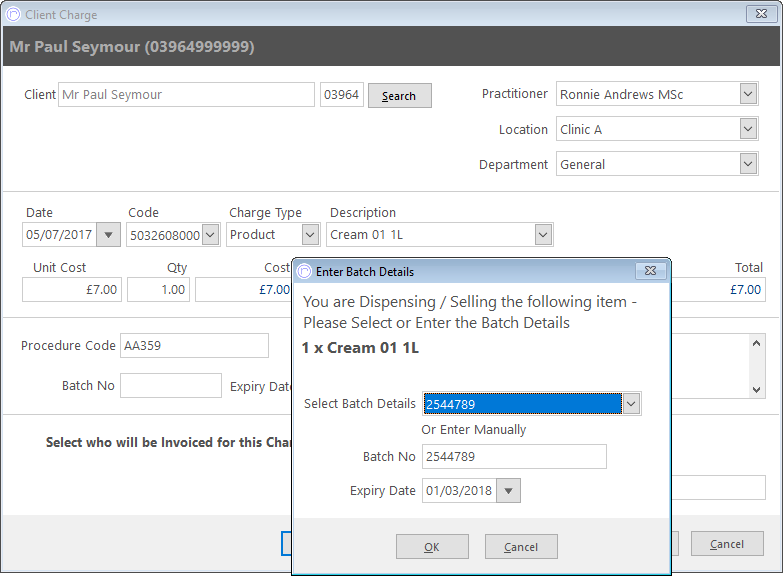 From here you can select your batch number to ensure the stock is drawn from the right record.
Find information on creating charges and the PPS Billing Process here.
Section 3 - Stock Reports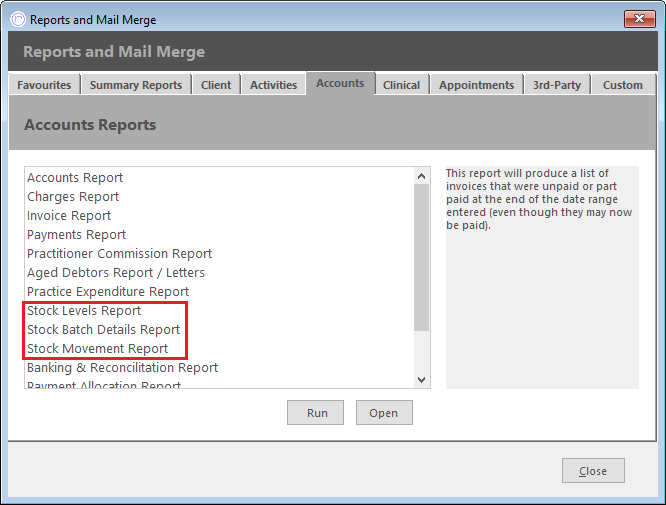 Navigate to Reports > Reports & Mail Merge > Accounts where there are three pre-built stock reports available.
Stock Levels Report: Shows current stock levels and value

Stock Batch Details Report: Shows details of stock batches and stock adjustments

Stock Movement Report: Shows details of stock level changes such as movements, adjustments, and charges.
You can use breakdowns and criteria to alter these to suit your requirements. Find general information on how to use PPS reports here.
To run one of the reports select and choose Run at the bottom of the screen. You'll be asked to specify a date range that the report should cover.
Choose Open to make additional changes to the criteria of the report.
You can use the Accounts Report, Charges Report and Invoices Report to see the net cost figures of the stock by selecting to include Cost of Sale/Purchase Cost in the different accounting reports print/preview options.