A Statement of Account can be printed for any client or third-party account and will show their overall transaction history or for a particular date range as well as any outstanding balance. The Statement of Account option is available from the Accounts screen via the Print option.

The layout of the statement can be customised to suit your requirements using the Layout Designer. The statement is designed to be printed and sent to the client (or third-party) as a reminder of an overdue account and can include a list of invoices outstanding, and any payments received so far.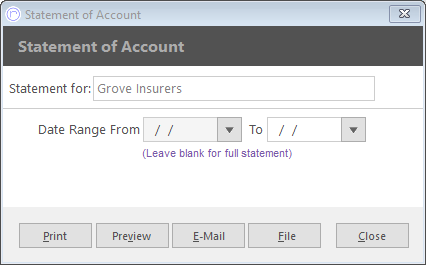 From the Statement of Account screen choose a date range of transactions to include in the printout or leave this blank to export the full history of the client or third party transactions.
You can then choose to Print or Preview the Statement, as well open the Send E-Mail screen with it ready-attached in PDF form. Choose the File option if you'd like to export the statement either in .xls, .txt, or .dbf format.