The Medical History questionnaire allows you to set a standard list of questions that can be filled in on a per-client basis. The answers to these are recorded on a yes/no basis and you can opt to have certain information flagged up if it is of importance to client treatments.
a. To configure your Medical History Questionnaire navigate to Tools > System Set Up > Set Up Medical History Questionnaire. Here you can add and modify your questions.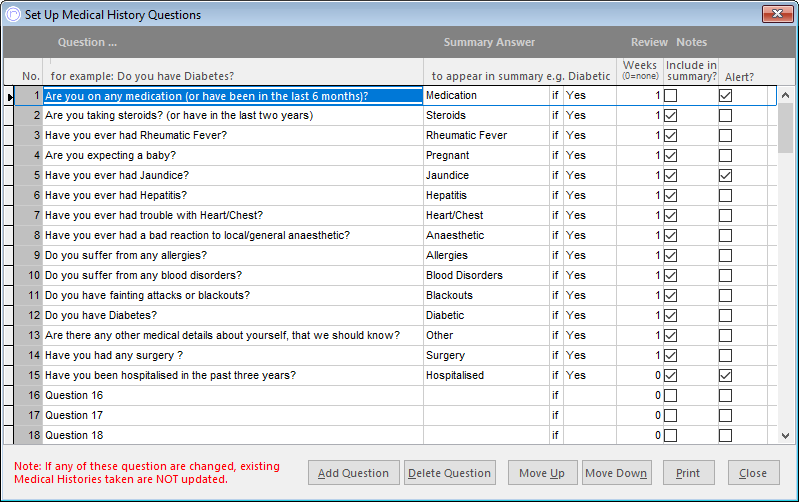 Important: Making changes to questions will not update existing instances of the form being filled out for clients and information may be lost or questions may appear alongside the wrong answers. We recommend that new questions are always added at the end of the form to avoid disrupting other questions
b. Modify the question text by typing into the question field and reorder, add, or delete questions using the options at the bottom of the screen.
c. In the Summary Answer field determine the text that will appear if the client answers each question in the way determined by you. In the example above answering question 1 with a Yes will prompt the term "Medication" to appear in the client log and in the Medical History details in consultations for that client because we've also ticked "Include in Summary". Ticking "Alert" will mean that if this question is answered in the way set here then an alert will flag up each time the consultation screen is opened for that client.
You can also set how long in weeks after a question is initially answered that it should be marked to be reviewed. Once one or more questions are due to be reviewed this will be flagged in the consultation screen and client log.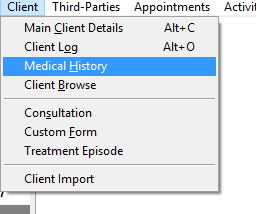 d. To fill in or make amendments to a client's Medical History questionnaire navigate to Client > Medical History.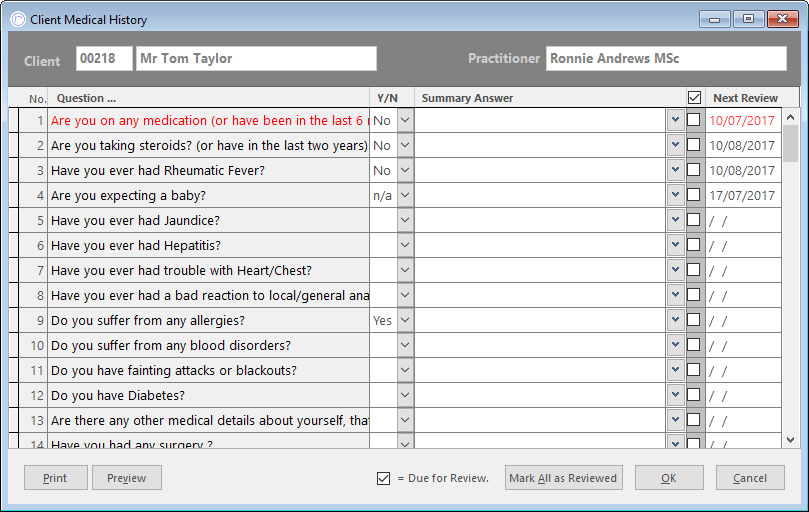 e. You can now answer all relevant questions for the client using the Yes or No options and add any additional information in the Summary Answer field.
f. Any questions that are due for review will be marked in red. Once they've been reviewed tick the box beside the Next Review date and the review date will be pushed back again based on the number of review weeks you chose when configuring the questionnaire. Use the Mark All as Reviewed option at the bottom to review questions en masse.
g. You can report on Medical History answers in the Client List report (Reports > Reports & Mail Merge > Clients) using the Medical History criteria. This allows you to find people who answered Yes or No for certain question numbers. See our general guide on reporting here for more information on gathering information from PPS Reports.