PPS works alongside PyhsioTools to allow you to create exercise programs for your clients and associate these as records to your consultations.
This guide will take you through installing and setting up PhysioTools as well as using it within the PPS system.
Section One - Installing PhysioTools Connector
If you're a PPS Hosted user and wish to start using your PhysioTools account alongside PPS then let our support team know via an email to support@rushcliff.com. You do not need to do any local installation.
The PhysioTools Connector allows PhysioTools Online to work within your local PPS Consultation screen. To begin you'll need to download and install the connector from the following link: http://www.physiotools.com/PhysioToolsConnector
Download the installation file and run through the installation process following all stages in the Setup Wizard.
The connector installs by default to "C:\Program Files\PhysioTools" for 32bit Windows and "C:\Program Files (x86)\PhysioTools\" for 64bit Windows.
Section Two - PhysioTools setup within PPS
a. Once the PhysioTools Connector has been installed log into PPS and navigate to Tools > Options > General System Options > Add-Ins.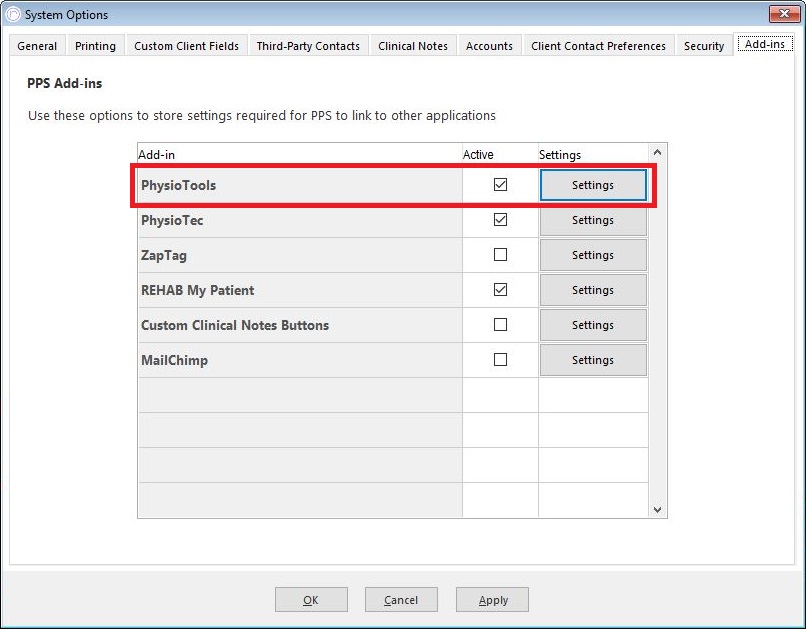 Tick to make PhysioTools Active and enter the command line to link to your PhysioTools Connector. This is by default:
[PhysioTools]
Active=1
CommandLine = C:\Program Files\PhysioTools\ptwin.exe
PTOnline=0
Important: Please check the section in bold and ensure that this matches the location of your local PhysioTools installation. This will need to be altered if your location differs.
If you are using an online/networked instance of PhysioTools then you may need to adjust the PTOnline line value to 1.
b. You'll now need to activate PhysioTools through PPS. Open the Consultation screen for a client and choose the PhysioTools button.

c. You'll then be presented with the New Handout screen as below. Click OK.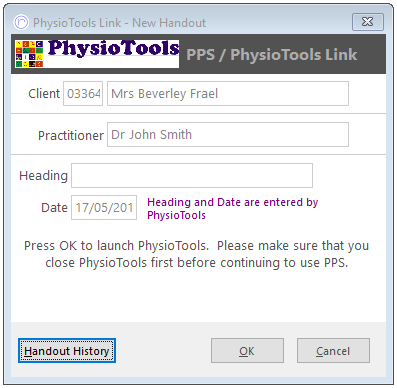 For the first time using PhysioTools you'll then be asked to complete some registration details in order to establish the link with your PPS system. Once this is done you'll receive an email to confirm you're able to start using PPS alongside PhysioTools.
Section Three - Using PhysioTools within PPS
a. When in a consultation, click the PhysioTools icon as shown in section two.
b. You'll be presented with the New Handout screen. Click OK.
c. You'll then be taken to PhysioTools where you can view and collate exercise programs for your clients.