Text sets allow for quick entry of commonly used words, phrases, lists, or sentences into Consultations. While PPS comes with some text sets as standard, custom sets can be created that are more relevant to your practice. This guide will cover creating your own text sets as well as using them within consultations. You can also utilise non-text symbols in the same way by configuring groups that can be easily accessed and added to your consultation notes. This guide will first cover the configuration and use of Text Sets followed by the same for Symbols.
Section One - Adding a New Text Set
a. New text sets are added via Tools > Look-up Tables > Clinical Notes. Double click Clinical Notes Symbols and Text Entries to enter the relevant screen.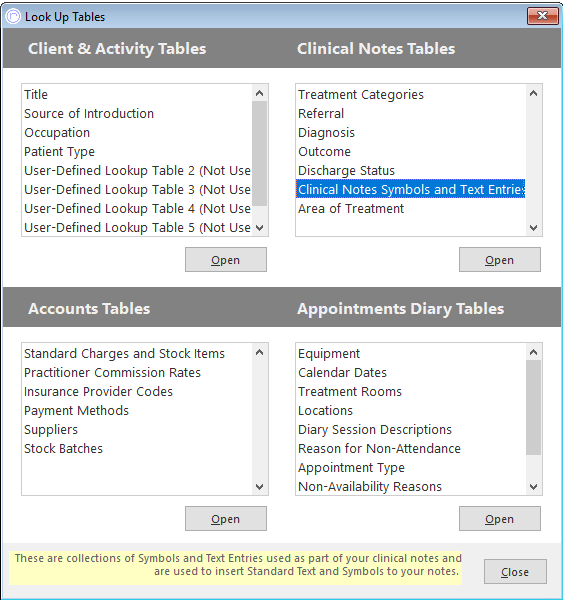 b. Here, select the Text Sets folder as shown above and choose New Text Set.
c. Enter a name and description for the new text set. The text set can also optionally be assigned to a category from this screen. Click Save.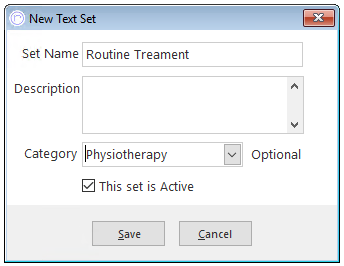 d. Now you've created your new text set we want to add some text entries into it. Back in the Clinical Notes Symbols and Text Entries select your newly created set and choose New Text.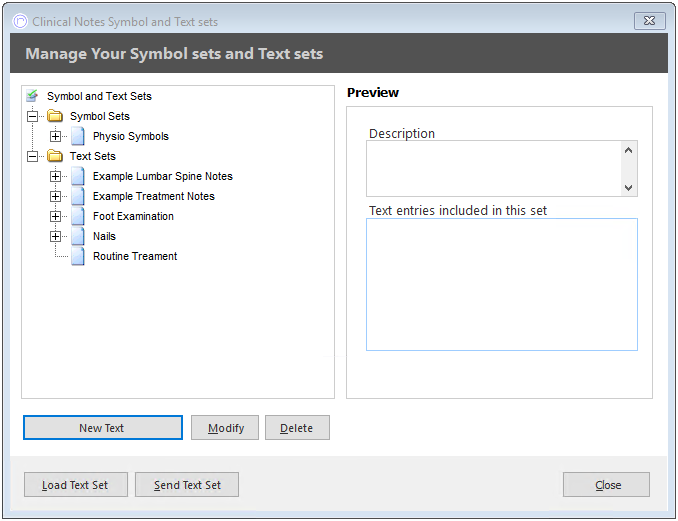 e. Within the new entry screen a text description can be entered. This will act as a heading for this text set and can be used to identify it in the list when in a consultation. The heading will automatically be populated into the text entry field but this can be removed.
Enter the body of your text set in the Text Entry field and format it using the font and formatting options above. The text entered here is what will be populated into your consultation when you choose this text set. In the example above we've created a list of headers that can be used to prompt practitioners to fill in relevant information and ensure all consultations are formatted in a similar manner.
Once you're done choose Save. Come back here at any time to make changes to this text set.
f. Back in the Clinical Notes Symbol and Text Sets screen you can add additional text entries to your new text set by selecting the text set (In this case our Routine Treatment set) and choosing New Text. Alternatively, we can add a sub-text to "Issue Description" the text set we've already created. This just allows for another level of filtering and sorting your results and sub-text will only appear when you've already added the text set. In the example below we've added a sub-text to "Issue Description" via the New Sub-Text option which will only appear after you've added the "Issue Description" text set to your consultation. See an example of this in section two of this guide.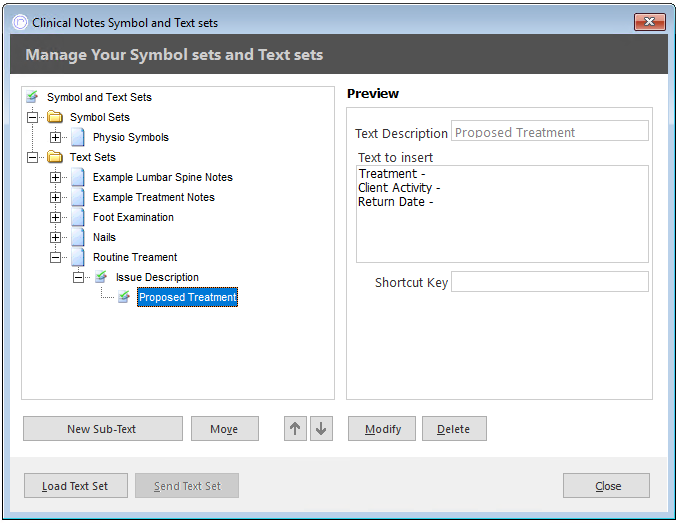 Section Two - Using Text Sets
Extra Information: Find general information on PPS Consultations here.
a. Now that you've created your text sets you can start putting them to use. When you've opened up a consultation for a client click the Text button in the text options bar.

b. You'll now see a list of all your available text sets presented in order of the Set Name. We'll be using the Routine Treatment set we created earlier. Click the relevant set.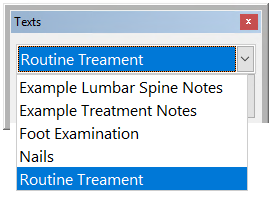 c. You'll then see your text sets. Click the relevant one and the text will automatically be populated, such as in the example below with the "Issue Description" list we created. As we've added this we can now also see and add the sub-text "Proposed Treatment".
Section Three - Adding Symbol Sets
a. You can configure and add symbol sets in a way very similar to text sets, so it's recommended that you read the above sections if you have not already done so. Navigate once more to Tools > Look Up Tables > Clinical Notes Symbols and Text Entries.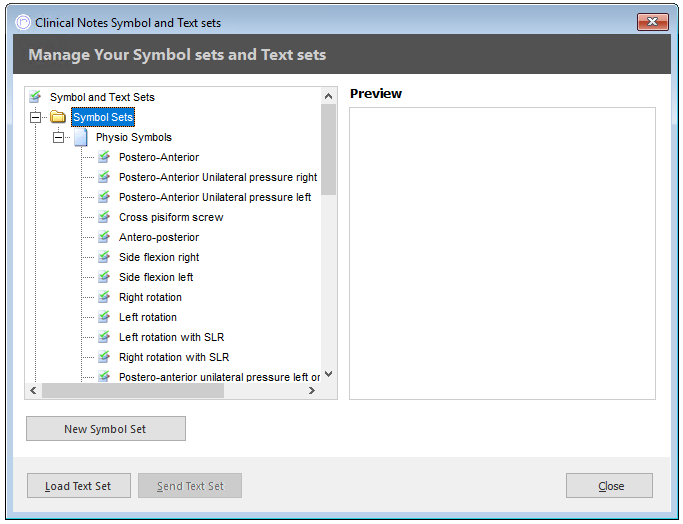 b. Symbols are stored within sets that will appear within the Symbol Sets folder. Select this folder and choose New Symbol Set to add a new set or select an existing one and choose Modify.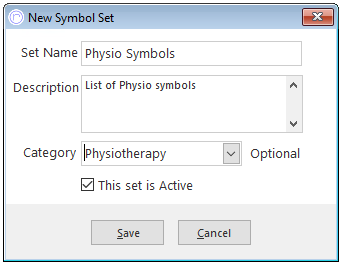 c. Enter the identifying details of the new set.
d. Once you've Saved your new set ensure that it is selected and choose New Symbol.
e. Enter the description for your new symbol and set a shortcut if required. Choose Select Symbol to open the Symbol Selector.

f. From here you can view a range of symbols sorted by font. Navigate through the fonts and when you locate the required symbols single-click it to highlight and choose Select. PPSPhysioSymbols is a specific font that includes some of the most popular symbols used in physiotherapy note-taking. Other standard Windows fonts such as 'Wingdings' include some other useful characters such as ticks and crosses.
g. Once you've selected your Symbol you'll be returned to the New Entry screen, choose OK here to save the Symbol to your set. Add further symbols to the same set using the same process.
Section Four - Using Symbol Sets in Consultations
a. When you're in a consultation and want to make use of one of your newly created symbols press the Symbols button on the text formatting menu.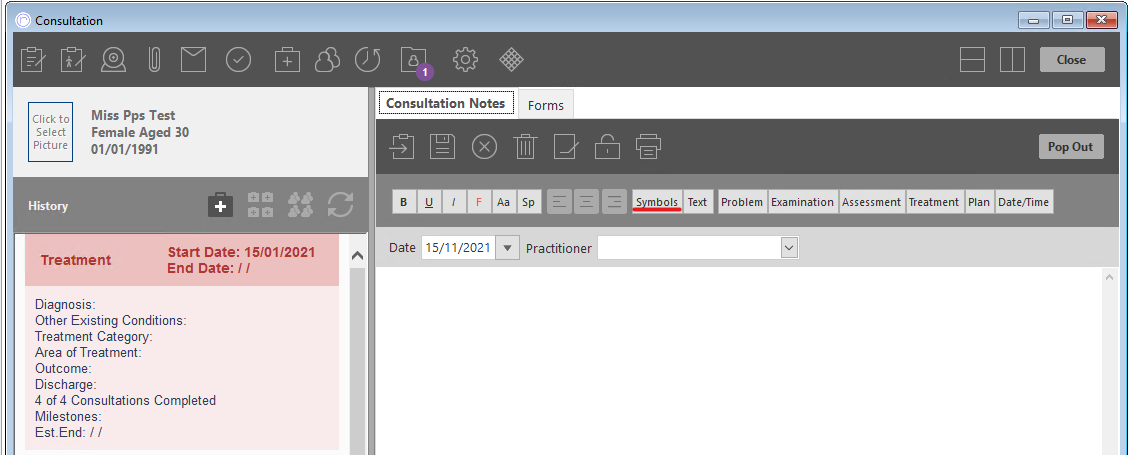 b. This will open the Symbols menu. The dropdown at the top allows you to navigate through your sets. Once you locate the relevant symbol click it to add it to the consultation.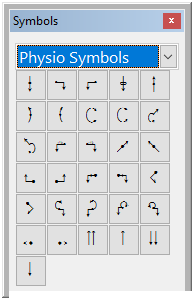 c. The screen will remain open so you can continue to add as many symbols as required. Close it via the red X once done.