The following guide will take you through the different methods of adding a new client to your PPS system and introduce you to the Client Details screen.
Section 1 - Adding a Client through Client Details
a. The first method of adding a client is using the full Client Details screen. Access a New Client screen by going to the Client Search screen and choose New. Access the search screen from the client details screen or client log of an existing client or by selecting either of these screens with no client currently selected.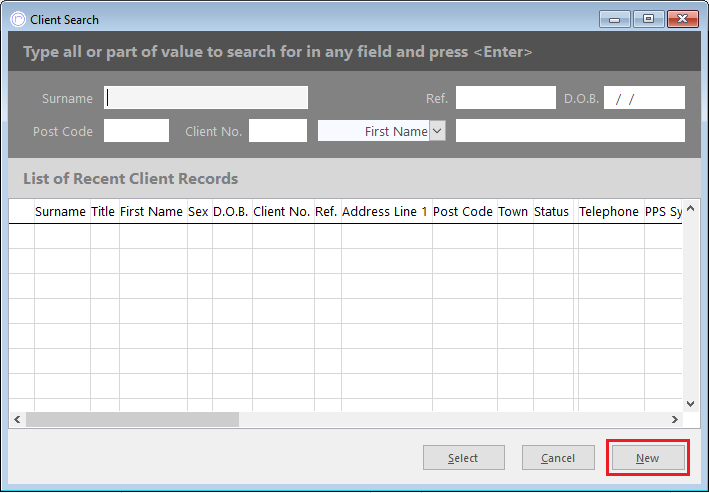 Alternatively, go to the Client Details screen of an existing client and choose New from there.

b. You can now begin filling in the details for your new client.
Client Name / Address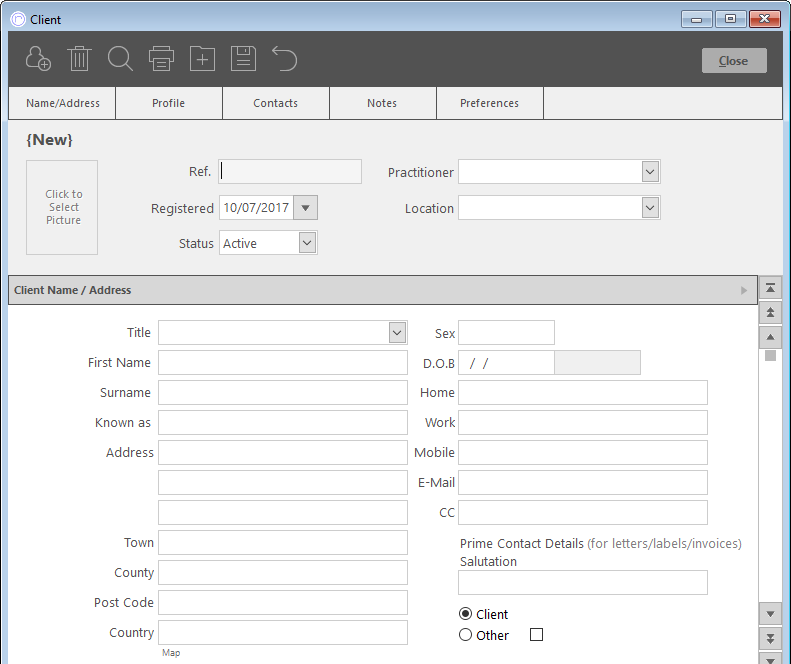 Begin by confirming the client's date registered and fill in any necessary reference number. You can then choose to assign this client to one particular practitioner. This is useful for reporting and necessary when limiting practitioner's access to client's not registered with themselves (see Access Controls for more information). If your system uses Locations then you can also assign the client to a particular location.
Below here, fill in the client's personal details. Some of these fields may be mandatory on your system. What is or isn't mandatory is controlled via Tools > Options > General System Options > Set Up Client Preferences.
The client Name, Sex, DOB, Address, Phone Number and E-mail fields are available to enter, or update from this screen. The address is divided into 3 initial address lines followed by Town, County Postcode and Country. The Town, County, Postcode and Country entries are kept separate to the rest of the address to enable the user to search on these entries and use them as report breakdown options if required.
When entering a new client address you can enter the Post Code into the first line of the address section in order to search on your current client database for similar postcodes and populate as much of the address as possible (this feature applies to UK postcodes only). This search is only carried out on your existing client records and not on a national postcode database – so the more clients you have entered, the better the return of address details.
To assign an image to the client click the Click to Select Picture area of the screen. This will open a Windows search box which you can use to locate the image. If you're on a Hosted system and are having issues locating your images then you may need to enable local drives.
You can set alternative contact details for a client if required. This includes adding a salutation for the client in the "Known as" field or selecting an alternative address to send letters and invoices to. This can be useful when dealing with clients that are minors (or elderly/infirm), and you write to their parent/guardian/carer. When you click on the "Other" prime contact option on the main client details screen an alternative address screen is displayed to allow you to enter the necessary details.
Tip: For details on how to populate prime contact details (as well as all other client details fields) in correspondence see our merge fields guide.
Profile

The Profile section on the Main Client Details screen includes the client's source of introduction, occupation, and a further variety of entries that you can customise to your own requirements. Each of the customisable fields can be modified via Tools > Options > General System Options > Custom Client Fields. Use these fields to gather other useful client information which can be used for reporting or with merge fields when contacting clients.
Contacts

You can use this section to associate a third-party contacts with each client. These contacts are stored in a separate list and are grouped into contact types such as Doctors, Insurance Companies, etc. The purpose of associating third-party contacts is that they can be used to send letters/e-mails to on behalf of the client, and also used for billing purposes.
Each client can have an unlimited number of different types of third party contacts associated with them. When using a Third-Party contact for billing purposes, the third-party is selected at the point of creating the "Charge" record. Click Add Contact to associate a new Third Party.
Notes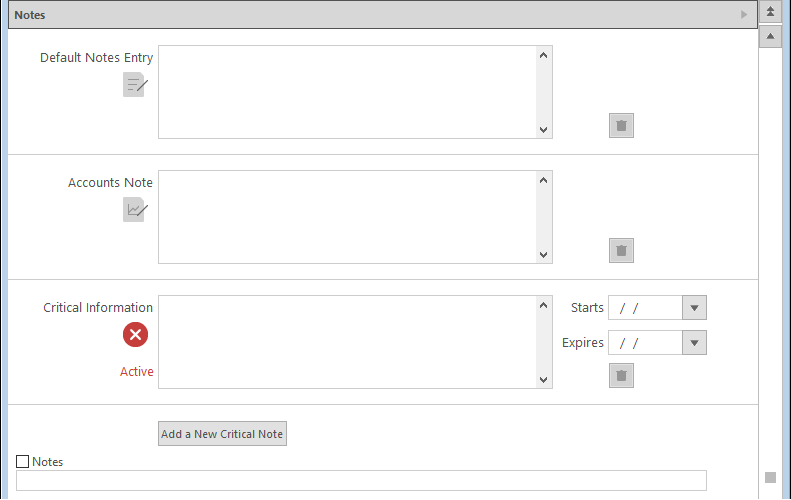 Use the notes section to record additional information regarding clients.
Default Notes Entry instances will appear on the clients details screen and clients log.
Notes recorded in the Critical Information field will appear as a pop up box whenever the client is selected in the future. Choose a date range to control when these pop ups will begin/expire.
Accounts Notes appear on accounts type screens only for that client.
The general notes section is for general use. Ticking the box entitled 'Notes' will cause the content of this field to appear at the top of the Client Log.
Preferences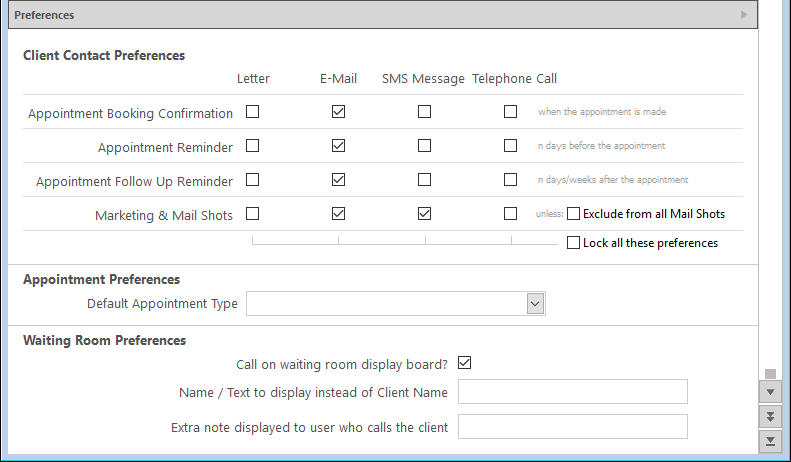 The settings here dictate how your clients are contacted via PPS. Ticking the boxes enable the client to receive information from you in the respective way. Ticking exclude from mail shots will disable the bottom row selection. The settings here can also be Locked so that if you decide to auto update all of the clients on the system with a new set of contact methods, this particular client is not updated. Mass updating of client contact Preferences can be done via Tools > Options > General System Options > Set Up Client Preferences. Find more information on Client Contact Preferences here.
Use the Appointment Preferences dropdown to select a default appointment type that will be automatically selected each time the client is booked in for an appointment. If require, the appointment type can be altered from this default at the time of booking.
If your practice runs with a Jayex Display board, you can assign in the options here whether to display an alternative name on the board, and any extra notes alongside the client's name.
Section 2 - Adding a Client when booking an Appointment
a. When booking in a new appointment you can access a more condensed version of the Client Details screen in order to allow for a more prompt client adding process.
b. To begin, open a New Appointment screen and choose the client Search option.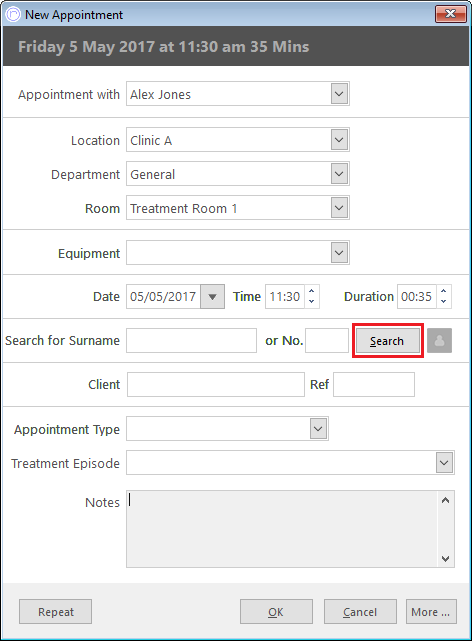 c. Once in the search screen choose New.
d. You'll now see the condensed version of the Client Details screen which allows you to more quickly add a client to the system while booking them in for an appointment.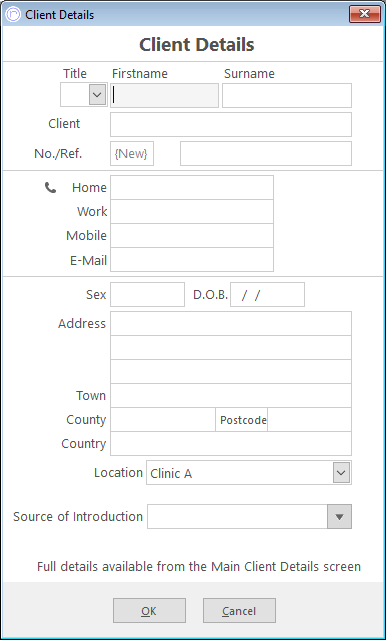 Enter the client's details, choose OK and then book the appointment as normal. You can return to the full Client Details screen for that client at any point in order to add or modify details if necessary.