PPS Reports allow you to review and export data relating to all elements of your systems. Use criteria and breakdowns to refine the results to suit your needs.
The reporting functionality in PPS comes in the following formats:
-Summary Reports - Allows you to more quickly view summary results and statistics based on a wide range of options. Find our Summary Reports specific guide here.

-Statistics and Summaries - Create graphs and charts based on your system information. This feature can only be used in Excel so you'll need a local installation of Excel if your are a PPS Local user and an additional license for Excel if you are a PPS Hosted User.

-Custom Form Reports - Report on answers to Custom Forms used in your systems. Find more information on these reports here.

-Reports & Mail Merge - Here you'll find the bulk of PPS' reporting functionality. There are a large range of reports, covering all the major elements of the system which you can configure to get exactly what you're looking for. You can then use these reports to produce Mail Merges or Custom Excel spreadsheets. We'll look into these general PPS Reports in this guide.
Section One - Reports & Mail Merge
a. Navigate to Reports > Reports & Mail Merge to access the Reports screen and the various Reports Wizards.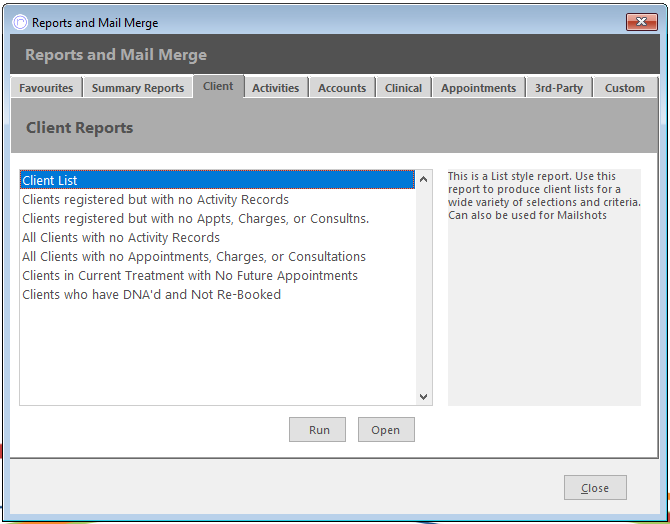 b. Here you'll find Reports broken into the following categories:
Favourites - Here any reports you've set up and saved as Favourites to be quickly reused will be sorted into folders.

Summary Reports - Find information on these here.

Client - Reports relating to Clients details and clients that match certain criteria.

Activities - Here you can report on PPS Activities (letters, emails, personal actions, etc.). An additional report allows you to view the time your users have spent logged into PPS and the number of appointments and activities they have added and completed.

Accounts - Reports that cover all accounting elements for clients and third parties. You can also view commission, expenditure, and stock information.
Clinical - Reports relating to Treatment Episodes and Consultations.

Appointments - These reports look at appointments and events and can produce details on waiting times, user availability, and occupancy.

3rd-Party - View and export information on your third-parties.

Custom - Here you'll find any custom reports that may have been built to your requirements as consultancy arranged with our Sales team.
c. In each of these tabs you'll find a list of reports. Some of these have specifics already set and can be used for some of the more frequent reporting queries. Navigate through the tabs and select a report to view a brief description of its use towards the right of the screen.
d.If you locate a report you would like to run you can do so in two ways:
Run - Run the report as-is. You'll be prompted to enter a Date Range but there's be no further configuration of the report results.

Open - Open the Reports Wizard and make changes to the report settings.
See the following sections for information on each of the Report Wizard sections if you choose to make changes to a report.
Note: Not all options are available for all reports and some tabs may be greyed out in certain Reports Wizards.
Section Two - Select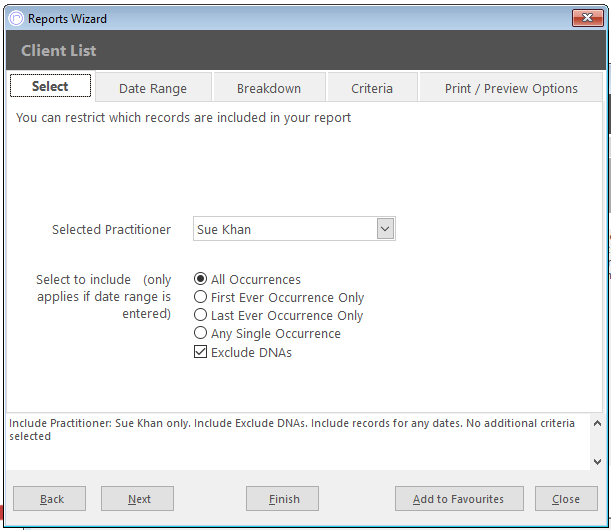 a. The first tab when configuring a report is Select. What is available here will vary depending on the type of report you have chosen to run. It essentially allows you to make some general selections about the results of the report. In most instances there'll be a dropdown to select which user/practitioner results are assigned to but this can be left blank if required in order to include all. In the example above, a Client List, we can choose to limit results to all clients who are assigned to a particular practitioner in their client details screen. We can also choose which instances to include if a client is a result more than once in this report.
Section Three - Date Range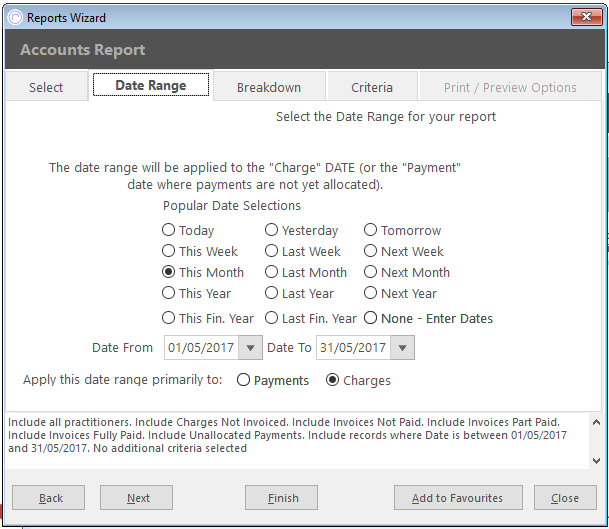 a. From this tab you'll choose the date range to be applied to the results of your report. Only results with a date that falls within the chosen date range will appear. In some reports there is the option here to choose what the date range applies to, such as in the Accounts Report shown above.
In the Client List report the Date Range will apply to any form of client activity on the system e.g appointments, charges, activities.
Section Four - Breakdown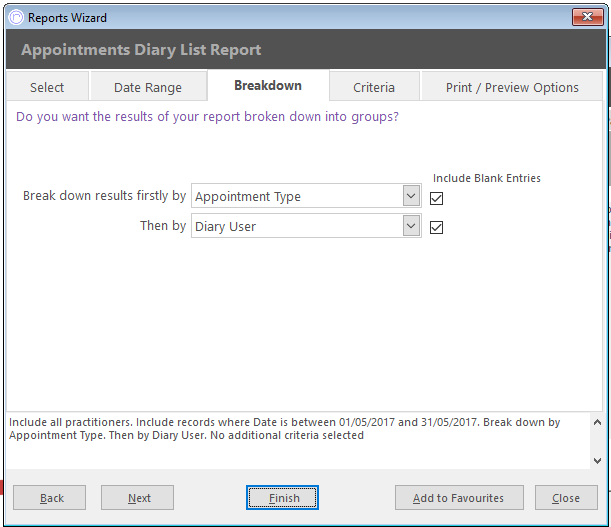 a. Breakdowns allow you to arrange your results into categories and sub-categories to make it easier to review specific groups of results as well as sub-totals based on your requirements. In some of the reports you'll find that particular breakdowns are only available if a Date Range is entered so enter one of these to see a full list of options.
You have the ability to choose up to two breakdowns. The first breakdown will section off all your results. The second breakdown will then sort the entries within these breakdown to provide sub-categories of results.
See below and example of how results appear with two breakdowns based on what is applied in the image above:

The first grouping is here shown by the Appointment Type which is EXPRESS SESSION. We've then broken down by Diary User so within all EXPRESS SESSION results are arranged by the associated Diary User.
In the Breakdown tab you can choose whether to include or exclude entries that do not have the chosen Breakdown information via the tick boxes beside the dropdown.
Section Five - Criteria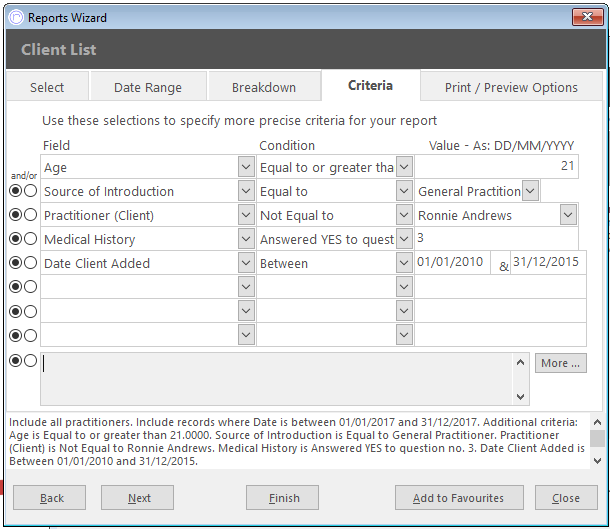 a. The criteria tab allows you to set specifics of what you do and do not want to see included in the results of your report. Each row can be used to set a separate criteria rule and contains three fields:
Field - This is the section of data you're setting specifics of based on what you want to include or exclude in results.

Condition - Use this to set the rule for the report results.

Value - Set the detail that should be included or excluded based on what is set in the corresponding Condition field.

As you can see in the example above we have set a series of criteria to both exclude and include clients from our Client List report based on various pieces of information.
Based on the criteria tab above any clients included in the report would need to match the following:
- Be 21 or over

- Have General Practitioner listed as the Source of Introduction in their Client Details screen

- Not have Ronnie Andrews set as their practitioner in their Client Details screen

- Have answered Yes to question 3 in their Medical History form

- Added to PPS between 1/1/2010 and 31/12/2015
You'll also need to consider any date range you have included. Results must be within the date range as well as adhering to the criteria.
The text field at the bottom of the screen here can be used to add custom criteria if this has been given to you.
Section Six - Print / Preview Options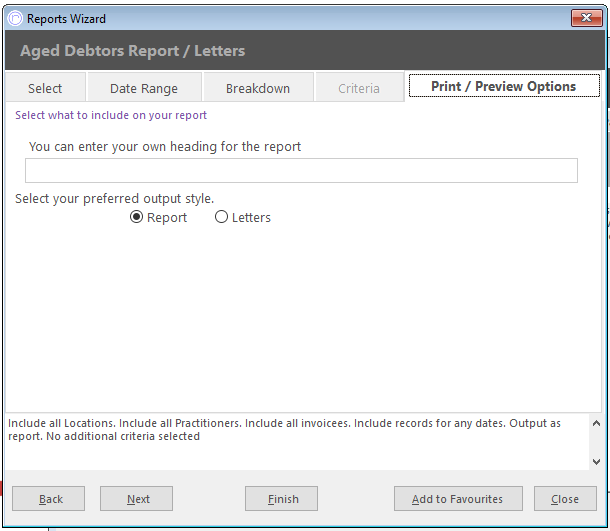 a. Here you can choose display settings for the printout and preview option of your report. These options differ based on what kind of report you run but can be used to decide what details are included in the export. You can also set a heading to appear at the top of any preview or printout pages.
The example above, the Aged Debtors Report goes further and allows you to opt to export results as debt letters to be sent to the clients with invoices outstanding.
Section Seven - Navigating Reports

a. At the bottom of the Reports Wizard you can use Back and Next to move through the various tabs.
b. Press Finish once you've finished configuring the report. If you want to save the report you've made then do so via the Add to Favourites option. The report and anything you've added to it will then be available from the Favourites tab of Reports > Reports & Mail Merge.
Section Eight - Finishing Your Report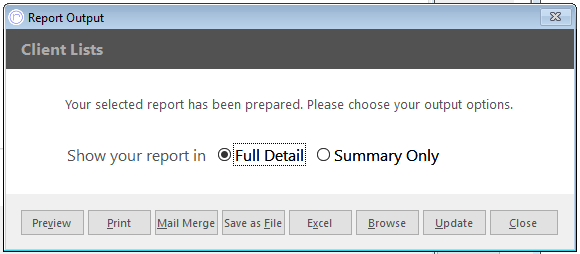 a. Once you've set all the necessary details in the report or want to check results before potentially making further changes choose Finish at the bottom of the screen. You'll then be presented with the Report Output screen. What's included here will vary based on the type of report you're running.
Choose to view the full detail of your report or just a summary using the selections available here. Summary review does not list results, only end totals.
Preview - Preview the results of your report. They will appear here in the same way as when you Print them.

Print - Print the results of your report.

Mail Merge - Use the report results to send out a bulk correspondence mail merge. Details of this can be found here.

Save As File - Export the results of your report to a file in either xls, txt, or dbf format.

Excel - Export the data to a Custom Excel List with the data fields included defined by you.
Browse - Use your Custom Column Lists within PPS to create an easily viewable sheet of information.

Update - Use the Client List report to make mass updates to client details. Apply general changes to all clients who are results in the report you have run. These changes include changes to client status, details fields, and critical notes.

Close - Close the Output screen and return to the Reports Wizard where you can make further changes to the report if necessary.