Should you need to change the name of any practitioners or users in your PPS system it is important that this is done properly and with care as failure to do so could result in you losing visibility of some data in your PPS system.
As information like accounts and appointments are linked to the name of a practitioner or diary user it's important that all records are successfully transferred over to the new name so that they can remain visible in your PPS system. The following guide will take you through this process.
Important: The name change process for practitioners can take a long time and the should not be interrupted once begun. It's therefore recommended that you start this at a time where you will not need access to the system and can leave the process to complete, for as long as is necessary. Failure to allow the process to complete could result in you losing visibility of the practitioner's appointments in your diary. If this occurs, contact support@rushcliff.com and we can advise on how best to proceed in restoring these. 
For networked PPS Local users you may find that the process is quicker if run from the main database machine rather than over your local network. This also reduces the risk of any dropouts interrupting the process and causing issues with your data.
a. To begin, navigate to Tools > Set Up Practitioners and System Users
You will need to be a System Administrator to make changes to the names of other users.
b. Double click on the practitioner or diary user you want to make changes to.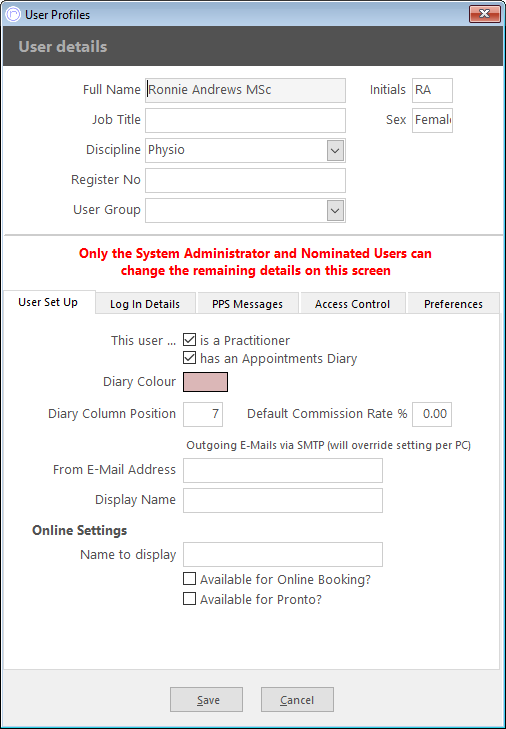 c. From here make changes to the name and/or initials of your chosen user. In the example above we've added "MSc" to the end of Ronnie's name.
d. Once you've finalised the changes press Save at the bottom of the screen.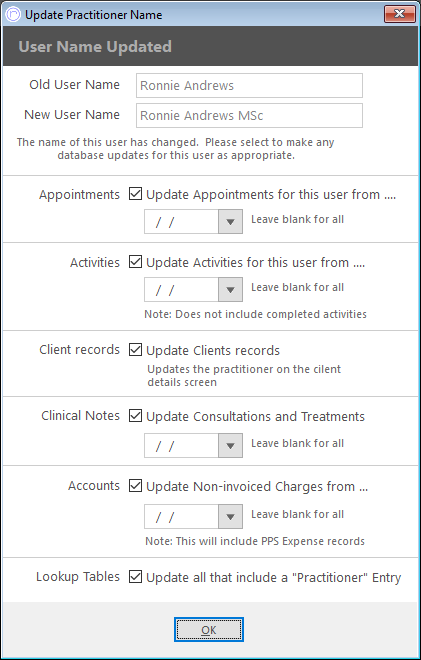 e. This next screen is where you'll confirm the roll-out of the name change to any records existing on the system. You'll need to make choice based on date of which records you should apply the change to. Leave this fields blank to apply the change to all records in each category. If you do not apply the name change to records before a certain date then the new name will not be applied to those. For appointments this will mean they are no longer visible in the diary. Appointments will still be present on the system via reports however, as will all other records.
f. Confirm your selections and choose OK at the bottom of the screen. The update will then begin to apply. Please do not exit PPS or shut your machine of during this time. The changes can take a while to apply.
g. Once the process is complete check everything has moved over successfully. You should then reindex your system as soon as possible.