Appointment archiving is an optional feature of PPS that can move your older appointments to an archive file to reduce the size of your live database and potentially increase your diary speeds - particularly over a network.
Archived appointments are no longer visible in your appointments diary but can still be viewed through the Appointments Diary List report and Client Logs.
Important: Archived appointments cannot be un-archived without intervention by our technical team which would need to be scheduled in with our sales team and would be chargeable.
Section One - Archiving your Appointments Diary
a. You can archive your appointments via Tools > Database Maintenance > Archive Appointments Diary.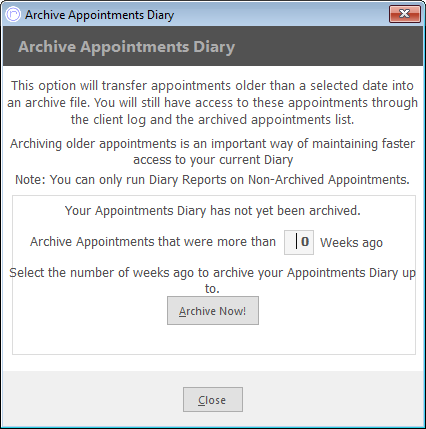 b. Read through the details on screen and set a time period, in weeks, beyond which all appointments should be archived. E.g, choosing 6 will archive all appointments older than six weeks from the present day.
c. Press Archive Now to begin the archive. This may take some time. As with any major data changes it's recommended that you perform a reindex after an archive of your appointments.
Section Two - Viewing Archived Appointments
a. You can no longer view archived appointments in your diary but they are visible in the client logs and appointments reports.

b. In the client log ensure Archive Included is selected at the bottom of the screen to view both archived and live appointments. This is a toggle button and will read as "Archive Excluded" when archived appointments are hidden.

c. In the Appointments Diary List report you can choose to include, exclude, or solely view archived appointments via the Date Range tab.