PPS Hosted Users: As part of our Hosted service, we provide a managed backup solution with a unique automated Continuous Data Protection (CDP) solution to ensure that your data is backed up every 12 hours as a minimum with no disruption to your PPS system. This all runs over a private fibre network to an off-site disaster recovery facility where your data is backed up to highly resilient servers with fast RAID50 storage.
This help guide details two methods of backing up your PPS Database. This is a vital part of maintaining your system so that you can get back up and running in the even tof a critical data loss or system failure. It's worth noting that there are often legal requirements applicable to the protection and off-site storage of backups which will need to be adhered to.
PPS Local users can back up their systems in two ways:

- Using the PPS backup utility. Only recommended for systems 6gb or smaller.

- Using an external back up utility or process that copies the PPS files themselves.
Section One - The PPS Back-up Utility
a. In PPS navigate to Tools > Back Up.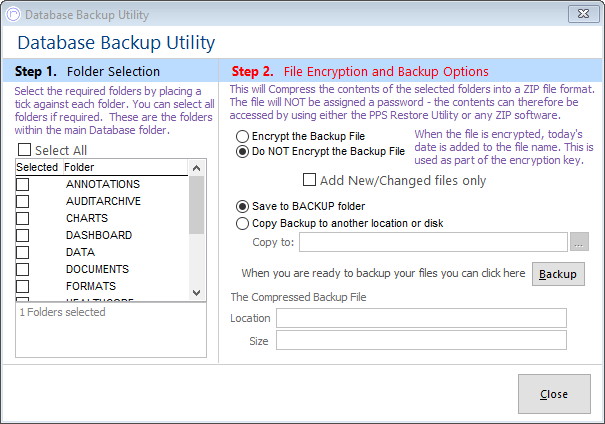 b. Under Step 1 choose which sections of PPS data you want to include in this backup file. Choose Select All to include your full system.
c. In Step 2 Choose whether to encrypt the back up file or not and whether to do a full or part back up based on existing backups.
d. Choose the location to save the backup or allow it to save the the default backup folder in your PPS database.
Note, PPS forces encryption if backing up directly to an external drive. Some external drives cannot process this or take a considerable length of time to do so, for these reasons we recommend backing up locally and then transferring the backup files to the external drive manually.
e. Click Backup to begin and allow the process to complete.
Section Two - External Back Up
Larger systems may benefit from using an external back up procedure. We recommended consulting with your IT team for their recommendations on this.
If backing up PPS at file-level then we recommend backing up the full PPS-Database. This allows for the quickest and most thorough method of restore to your system in the event of data loss.
Whatever method of back up you use it's important that it is not a "live" type utility that utilises or "locks" PPS files while the system is being used. This can cause corruptions which will affect your data and access to the system.
If you're not sure where your local PPS database is stored then open up PPS Local and navigate to Help > About PPS.