The following guide gives you an introduction to the Security features available in PPS v4.0.88 and above as well as a general run through of controlling and resetting passwords for your users.
Section One - User Credentials and Login Authentication Options.
a. Navigate to Tools > Options > General System Options > Security.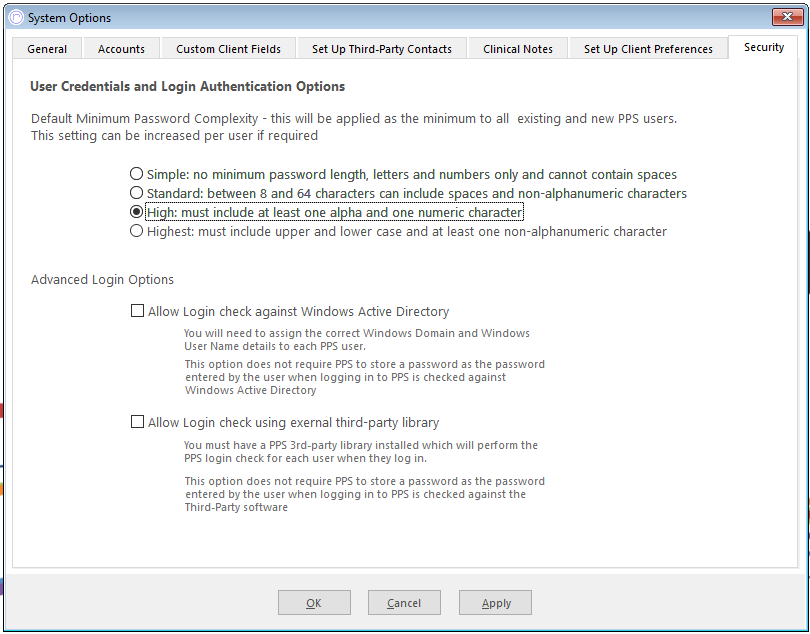 Only your System Administrator can access and modify this screen.
b. From here you can control and make changes to the password complexity requirements for all of your PPS users; new and existing. There are four complexity options, each of which are listed and explained within the screen.
When you first access this screen none of the options will be selected. If you have not yet accessed this screen on this or any of your syncing systems then your passwords are not encrypted and no requirements will be applied. Opening this screen for the first time and choosing OK or Apply with any of the options selected will apply those requirements and encrypt all of your PPS passwords.
For this reason it is vital that you ensure all systems in your PPS syncing family are on v4.0.88 or later. If you apply these settings and are syncing with a system on an earlier version than this then your passwords will no longer work on that system.
c. If you make changes to the required complexity in this screen then any users whose passwords do not meet the complexity will be prompted to change their password when they next sign in.
Any changes you make here will apply across your entire system for all users and the changes will also be applied to any systems you synchronise with.
d. In addition to making blanket changes from the Security screen you can configure complexity requirements on an individual user basis when logged in as the System Administrator. To do this navigate to Tools > Set Up Practitioners and System Users and double click the user you want to set a different complexity for.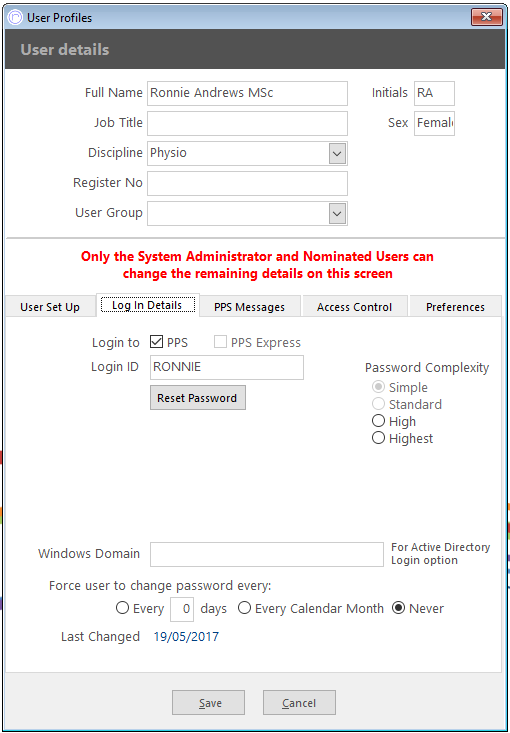 e. In the Log In Details tab you can choose to set a different complexity for this individual user or practitioner. It is only possible to set a complexity ranked higher than the one presently applied to the general system.
If you make a change to a user's individual complexity setting then they will be prompted to change their password to one that complies if their current one does not when they next log in.
As above, you'll need to ensure any systems in your sync family are on v4.0.88 or above before applying password complexity requirements/encrypting passwords.
Extra Information: For all systems on v4.0.88 and above all passwords are case sensitive. Login IDs are not case sensitive.
f. Once you've made a change to password complexity system-wide or for an individual user a check will be performed upon the next login that looks to see if the current password matches the required complexity. If it does not then the user logging in will be prompted to reset their password:
Login credentials in v4.0.88 of PPS or later are case sensitive.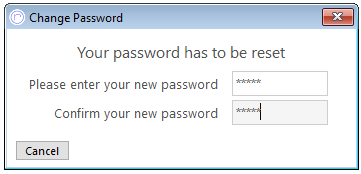 g. If they enter a new password that does not match the new requirement then they will receive a prompt advising of the complexity that needs to be applied.

h. The same prompts will appear if the administrator goes to reset a user's password via Tools > Set Up Practitioners and System Users.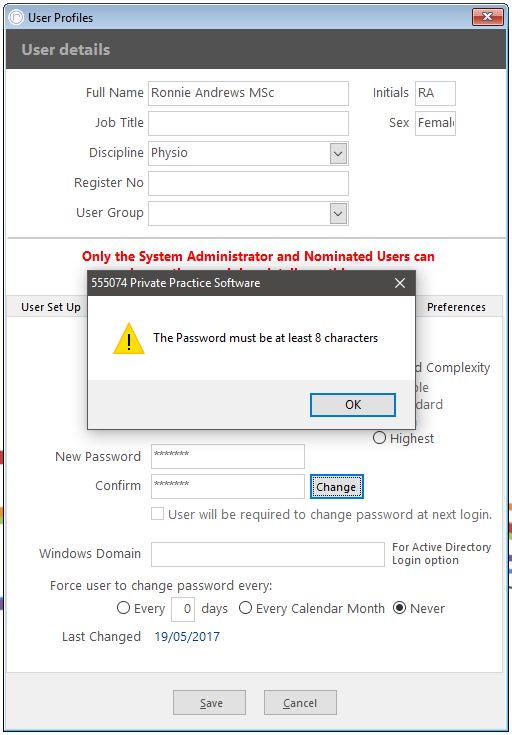 Section Two - Advanced Login Options
The first of these settings apply only to standalone PPS Local systems where users are accessing the system on a domain for which they have individual logins that they would like to use for PPS.
You will not be able to use this option if you sync with a PPS Hosted system or a local system on a different domain. The settings will synchronise and will be inapplicable on the syncing systems, your access will be affected. 
Contact our support team via support@rushcliff.com if you unsure as to whether this option will work for you.

Enable this method of logging in here and then navigate to each individual user profile via Tools > Set Up Practitioners and System Users and add the domain details in the Log In Details tab

The second option shown above, regarding the external third-party library allows 3rd party programs to store PPS log in details. This requires a custom application for your system. Contact our sales team via sales@rushcliff.com to register any interest in this feature.