Note: To ensure that your PC meets the minimum requirements to run PPS please see our system requirements page.
The following guide will take you through moving your PPS database from its current location to a new PC.
This process is only relevant for Local PPS systems – i.e. where the PPS software and database is hosted on one of your own machines. The steps below ensure the configuration and content of your current PPS system remains the same once transferred. Once the process is complete your PPS database will be hosted on the new machine and you should cease to access the database from the old one.
Please note that all users must be logged out of PPS while this process is undertaken and remain so until the system is up and running on the new machine. It is therefore advisable to complete the database move at a time when users will not require immediate access to the system. If you are a sync server user you will need to contact the support team in order to authorise sync to run from the new machine. This can only be done during Support working hours and your systems will not be able to synchronise until this is done.
As when making any changes to your IT setup it is advisable to take an external backup of PPS before starting the move.
If you would like the PPS Support Team to conduct this set up and transfer for you we are able to do this for a one off fee starting at £60 + VAT providing that you already have a valid PPS Support Contract. Availability for this is limited and will need to be scheduled in advance via our sales team on 01283 550 777.
Section 1 – Installing PPS on your new PC
You will first need to install a blank PPS database on the machine that you are moving your database to. Please note, there is a separate installer for machines that will be networked to a main database, details of which can be found here.
Download the installer for a blank PPS database here: PPS V4.0 Set Up
During the installation, please make sure that the software installs successfully. Do not proceed any further if the software does not install correctly.
By default the software will install to C:\PPSv4.0 but may be installed elsewhere.
Section 2 – Installing PPS Sync Server on your new PC
You only need to download PPS Sync Server if you currently use it to synchronise with other PPS systems. If you were not previously running PPS Sync Server then proceed to Section 3.
a. Download the PPS Sync Server installer here: Sync Server Set Up
b. Ensure that you install Sync Server to the same location that you installed your PPS Database in Section 1. By default this is C:\PPSv4.0\PPS-Database but this may have changed during your installation process. Sync Server needs to be installed within the PPS-Database folder.
Section 3 - Copying and transferring your existing PPS System
Sync Server Users - Please Note: On the original PC you will need to sync the system up to date and then close Sync Server completely before moving the data. Once this is done you should cease to sync from that machine. If sync continues to run on the original PC during or after the move then the transferred data will be out of date and the move will need to be re-done.
On the Original PC
On the original PC you will need to take a full copy of the PPSv4.0 folder and place it onto a memory stick, CD or network drive in order to transfer to the new machine. We normally recommend that a USB memory stick is the best way to do this. It is possible to send the PPSv4.0 folder to a memory stick using the following steps:
a. Launch a File Explorer window and navigate to the location of your PPSv4.0 folder. If you're unsure of it's location you can check by going to Help > About PPS before commencing the move.
b. Once you have located the PPSv4.0 folder right click it and choose Send To. From here you should be able to select your memory stick – this will often be drive D: or E: and will show the name of the memory stick.
c. Wait while the files copy. Make sure that the copy completes fully and that there are no error messages like "insufficient space on the memory stick" etc.
d. Remove the memory stick once the data has finished copying.
On the New PC
a. Insert your memory stick and open to view its contents. You should see the PPSv4.0 folder you copied from the original PC.
b. Copy the folder to the Windows clipboard. To do this right click over the folder and select Copy.
c. Launch a File Explorer window and locate the new PPSv4.0 folder created during the installation process in Section 1.
d. Right click on the icon for the local drive that contains the newly installed PPSv4.0 folder. This should ordinarily be visible in the left hand menu of the File Explorer screen. With the right click window open choose to Paste the PPSv4.0 folder on your clipboard directly to the local drive. Do NOT paste the folder into the PPSv4.0 folder on the C drive of the new PC – if you do this you will end up with a copy of the PPSv4.0 folder within a PPSv4.0 folder. You must select to Paste directly onto the C drive icon.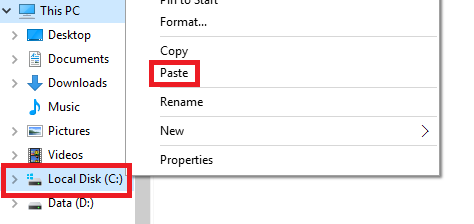 e. You will then be prompted if you would like to replace the existing folder. You should choose to replace all files. If this prompt, or one similar, does not appear then you have not selected the correct location to copy to. It is advised when overwriting data you check you are overwriting the blank folder in the new location, once data is overwritten it cannot be recovered.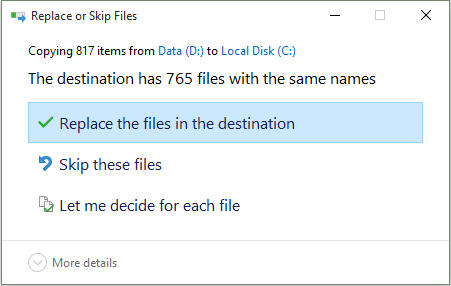 f. You have now successfully moved your PPS database to your new PC; you can now login to the system as you previously did. If you have networked PPS users then they will need to redirect their PPS logins to use the new database location. Details of how to do this can be found in section Section 2 of this guide.
Section 4 - Unlocking PPS Sync Server
The following is only valid if you are a PPS Sync Server user and have moved PPS Sync Server as well as the PPS Database as per the above.
PPS Sync Server is locked so that it can only be run from one particular machine under one particular User. This is to protect from data syncing to the wrong location which can cause major issues with PPS systems. Now that you have moved your PPS Database and PPS Sync it will need to be unlocked so that you can start syncing from your new machine.

To action this you will need to send an email to support@rushcliff.com from one of the addresses registered to your PPS system. In the body of the email please confirm:

- The PPS registration number of the system that Sync needs unlocking for.

- That you have accessed the newly moved system and are happy that everything is correct and in working order.

- That sync has not run on the old machine since before the data was copied and that the system will no longer be accessed from that old machine