This guide is only applicable to Online Appointment Booking v2. If you have acquired PPS Online Booking since October 2016 or have received an upgrade since this time then you will likely be on v3 and can find the relevant guide here: <HYPERLINK> If you're not sure which version you are running then contact our support team via support@rushcliff.com
With the introduction of PPS online booking admin, you are able to manage your online booking settings all from one convenient screen!
To locate your online booking admin tool, simply go to Tools > Online Booking Admin.
This will open up your online booking admin screen where you can start setting up.
Section One - Availability
The first screen that you will see is the availability tab. If you are using online booking for the first time this screen will be blank. Once you start to define which appointments, practitioners and locations are to be available for your clients to book online, this screen will become a place where you can check those settings at a glance.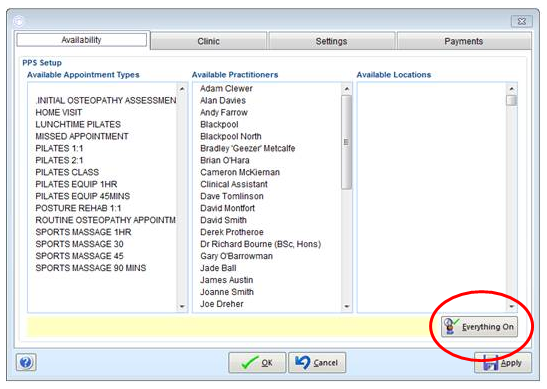 You will also notice in this screen that there is an Everything On button, clicking this will make all appointment types, practitioners and locations available for online booking.
Section Two - Clinic
Navigate to the Clinic tab.
If you have chosen not to integrate your online booking directly into your website, you can use this page to enter your contact details as you wish them to appear on your online booking to your clients.
Use the 'Main Header' box to display the name of your clinic and use the 'Subheader' box to describe your business.
The 'Short Link' box will define the web address that you can direct your customers to in order to make a booking online. Should you wish to link directly to your holding page rather than integrating then the url you'll use will be "https://rushcliff.com/ob/"followed by whatever is entered under Short Link.

The rest of the boxes should contain your practice details, including the practice address, any current website address and any other contact details.
The Tokens section here contains file URLs which are used by your web developers, these files contain various settings and links necessary to allow access to your online booking system. the drop down menu contains a list of your authorised websites and the relevant token file link.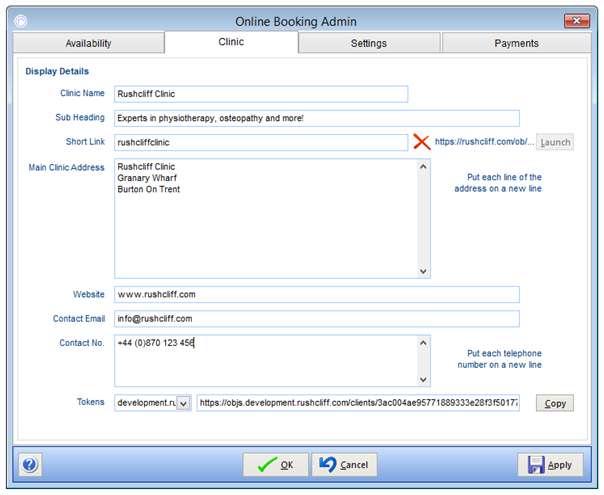 Section Three - Settings
Next you will come to the Settings tab. This is where you can manage the online booking process from the customer's point of view.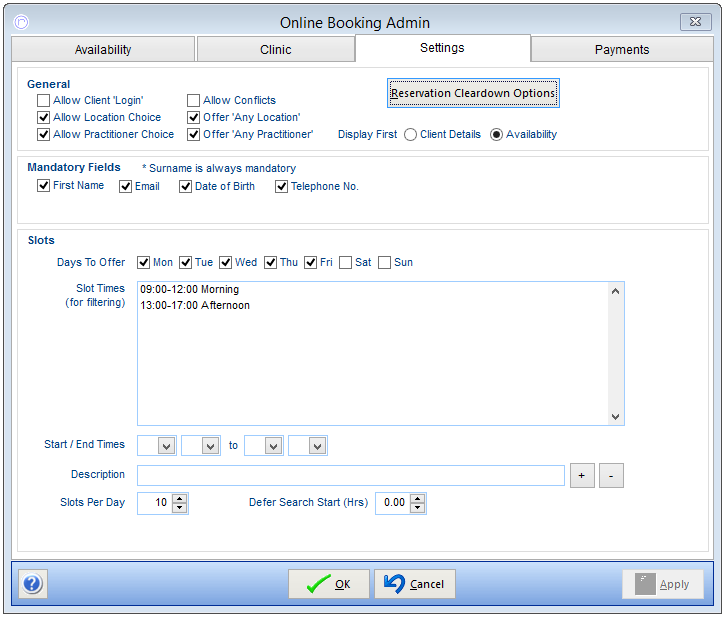 The first check box you will see under the general tab will determine if you would like to allow client login ticking this box will allow existing clients to log in before booking their appointment using a client number. This will reduce the chances of client record duplication. Any new clients will simply need to enter some basic personal details when booking.
The 'Allow Location Choice' check box allows you to decide if you would like to give your clients the opportunity to search for an appointment based on practice location. Alternatively, you can check the Offer any Location' box to make it easier for new clients to book.
The 'allow practitioner choice' check box allows you to decide if you would like to give your clients the opportunity to search for an appointment with a specific practitioner only. Alternatively, you can check the 'offer any practitioner' box to make it easier for new clients to book.
The 'display' first option allows you to determine whether you would like to give your client the opportunity to search for a suitable appointment slot before entering any personal details by checking the 'availability' box, or alternatively check the 'client details' box to ensure that client's enter their personal details before searching for a suitable appointment slot.
The 'allow conflicts' check box allows appointment slots to be displayed and booked via your online booking system,regardless of the fact that they may conflict with other appointments/bookings which already exist in your appointments diary.
Below the general tab you will see a section titled 'mandatory fields' within this section you will determine which client details you would like to ensure the client enters before being able to book an appointment. Perfect for ensuring that you capture essential information from new clients.
The last section that you will see is 'slots'. Here you will determine the days and appointment times available to your clients online to narrow down their search.
Simply check the boxes of the days which you wish to be available for your clients to book online, leaving any unavailable days blank.
Next, you can begin to define your slot times. Set a start time and an end time to a particular slot. You can define a slot as a whole day e.g 09.00-17.00 or you can use this section to break the day up into different slots, e.g. 07.00-11.00 Morning slot and 13.00-17.00 Afternoon slot.
To add multiple slots, simply add the first slot including a description, then click on the + button to add another slot, the – button can be used to remove any unwanted slots.
Note: Despite any slots on offer the options for the client to search for an appointment by the search criteria 'all day' will always be an option, 'all day' will default to your normal clinic opening hours.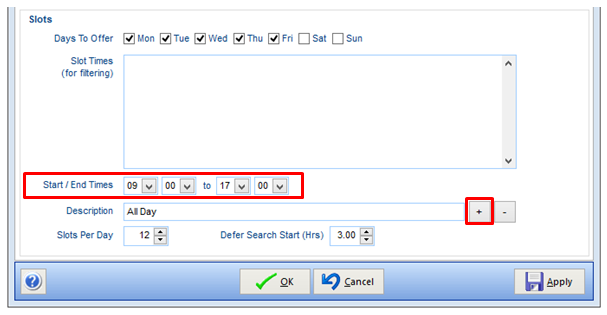 Lastly, you will need to decide the number of slots (appointments) which you would like to display as available per day and the deferred search time.
The deferred search time (in hours) will determine the time of the first slot which will display depending on the time at which the client is making their booking, e.g. if a client searches for an appointment at 09.00 and you have a deferred search time of 1 hour, available appointment slots will display from 10.00 onwards.
In the top right hand corner of this screen you will see a button titled 'reservation clear down options'.

Note: The settings here will only be applicable if you have chosen to make payments mandatory (see sect.4 Payments).
This screen allows you to determine how long a customer can reserve an appointment slot for when booking online before their session expires/times out.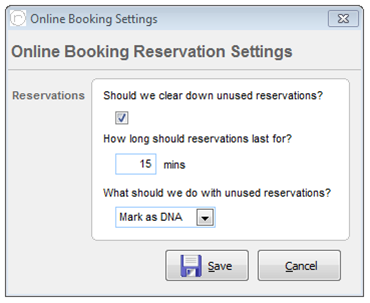 Ticking the box marked 'should we clear down unused reservations' allows PPS to remove any appointments that have been booked online but not yet completed with a payment.
Setting the time (in minutes) determines how long the customer has to make a final decision and make payment before they will need to begin the booking process again.
Deciding what to do with the unused reservation determines how this appointment is displayed in your PPS diary. Choosing 'Mark as DNA' will leave a record of the cancelled appointment in your PPS appointments diary. Choosing delete will remove the record completely.