When logged into PPS Express navigate to Settings > Templates to configure what information is sent to clients when they make a booking and in what format.
Can't see the Templates Option?: Controlling confirmation and reminder settings from within PPS Express is only available to those users who do not also have the full PPS product in either Hosted or Local solutions. If you use either of these you can find information on controlling confirmations and reminders here: Appointment Confirmations and Reminders.
This tab is sorted into two sections:
Confirmations: These are sent at the time a client appointment is made in order to confirm the details of the booking.
Reminders: These send, by default, the day before the appointment is due to take place. They're scheduled as long as the appointment is more than three full days in the future. These settings can be altered for you if requested with an email to support@rushcliff.com
For both sections you have the option to enable Email and/or SMS which will send as long as clients have the appropriate contact information in their client details. Toggle the on/off switch to enable or disable each option.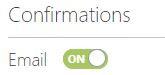 Add a subject that will make your correspondence identifiable to the client and then you can type up the content of your message in the Text field.
Hover over the Merge fields button to get access to fields you can paste into the template that will auto-populate client and appointment information each time the activity is sent.
Use the Preview button to see an example of what your template will look like when sent before saving. Client information will be populated by the test client Joe Bloggs and appointment information will show a generic time and today's date.
Choose Save once you're happy or enter an email address/mobile number in the "Send a test..." field and press the button to send a test to yourself so you can see exactly what your clients will be receiving.