At points in your use of the PPS Database you may wish to identify clients who have not been active for a certain amount of time. You can then also mark these clients as inactive should you wish to do so. This guide will take you through the process of identifying those clients with no system activity for a certain period and also how to alter their status to inactive. 
Important: The data you store, process, and delete for clients is under your control. You should therefore use these steps as an example only and look to your own procedures for clients that may be deemed inactive.
Identifying Clients Who Have Not Been Active
The process of identifying clients who are "inactive" will dependent on your own criteria. For this guide we'll use as an example a basis where clients who have not had an appointment, charge, or consultation within a certain window of time are no longer active. If your criteria for inactive clients is different then you will need to utilise a different report. You can see our reporting guide for a starting point on reports or send details of your requirements through to support@rushcliff.com if you're unsure and we may be able to advise further. 
a. To begin, navigate to Reports > Reports & Mail Merge. Once here, choose the Client tab. For this example we'll be using the report entitled "All Clients with no Appointment, Charges, or Consultations." as we'll be marking everyone who hasn't got one of these three functions on file for the last 18 months as inactive.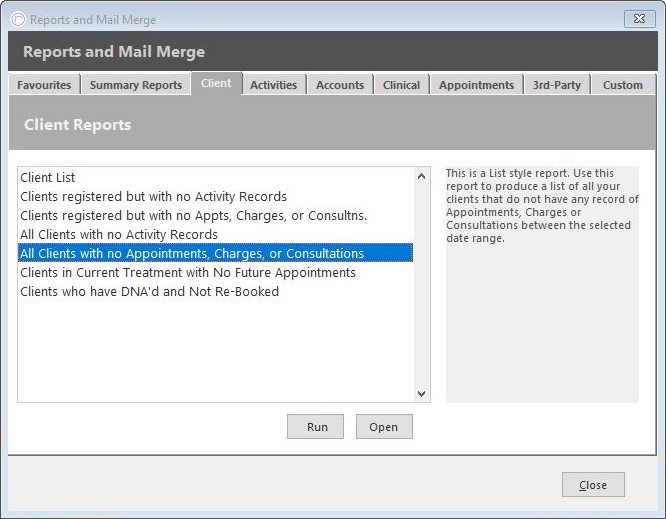 b. Should you wish to add additional criteria to this report then highlight it and choose Open. If not choose Run and you'll be taken straight to the Date Range and step c. of this guide. We're choosing to only include clients added before 1/1/2017 in this report using the following criteria as we've deemed anyone added after this time as too new to be marked as inactive regardless of their historic activity: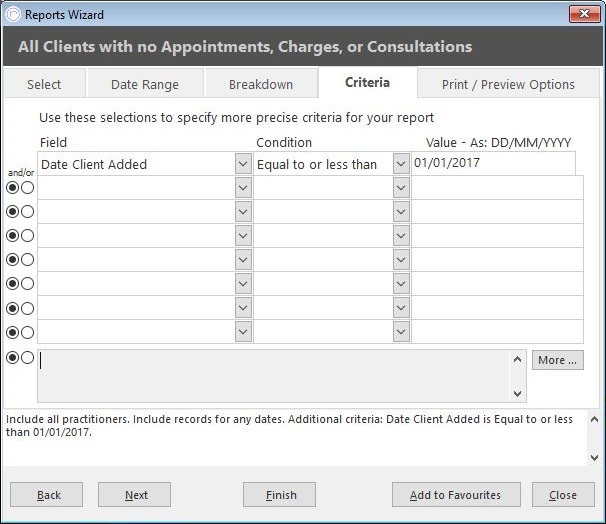 Our reporting guide is a good place to start if you'd like to understand what additional criteria you yourself can utilise in reports like this one. 
If you've entered the Reports Wizard head to the Date Range tab once you've chosen your criteria. 
c. In the date range screen choose the range you want to use to identify clients who have not had an appointment, charge, or consultation in that time. 
We'll use the date range 01/09/2016 to 01/04/2018 in order to identify those clients who have not had an appointment, charge, or consultation within this period. Our additional criteria, entered in point b., will also act to exclude any clients who were added after 01/01/2017. 
d. Once you're happy with the report choose Finish (or OK if you went straight to the Date Range). If you're just looking to identify or export these clients then use the Preview or Save as File options, or continue to the next section to mark these clients as Inactive.
Marking Clients as Inactive
e. Once you've finished your report click Update.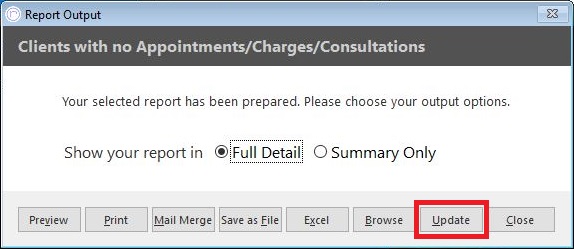 f. Navigate to the Client Status tab.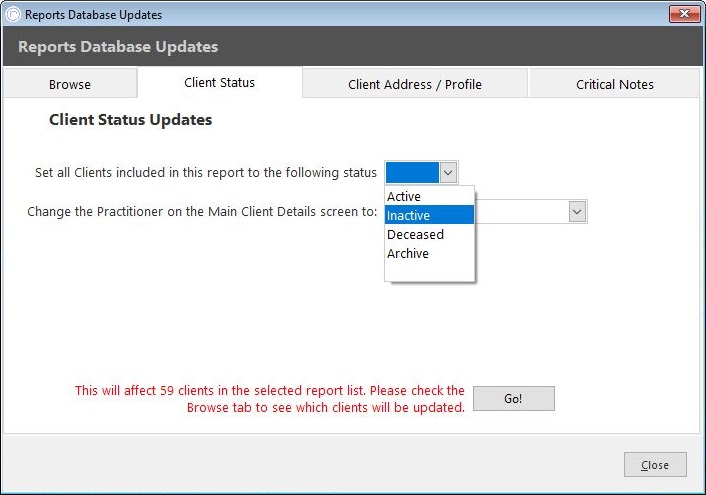 From here you can choose to assign a status to the clients that are results in your report. For the purpose of this guide we will be choosing "Inactive".
g. Press Go! to start the update, followed by OK when prompted.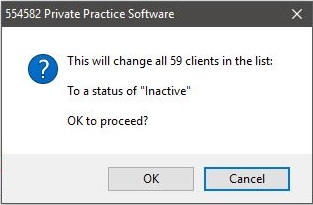 h. Allow the process to complete. You'll get the below popup once all entries have been updated.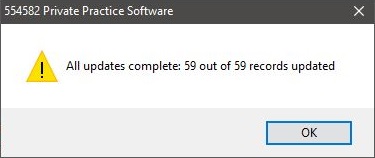 i. We've now updated the client status of the clients who were results in our report to inactive. This means that they can easily be identified in their client details screen, will be colour coded in client searches (navy blue: Inactive, light blue: Archived, grey: deceased) and can easily be excluded from mailshots sent from your PPS system using the Client Status criteria as demonstrated below.