This is our regularly updated FAQ guide that gives you an insight into some of our most popular queries as well as insider tips directly from our support team! 
What would you like to see here? Send your suggestions through to support@rushcliff.com
Keeping your PPS system healthy 
Regular database maintenance is key to ensuring that your PPS database runs smoothly and remains error and corruption free. For users of the main PPS product you need to ensure you're re-indexing your system at least once very couple of weeks and immediately after any software updates. Archiving your audit and activities file is also an important part of this as it stops your audit and activities files growing too large which can massively impact the speed of your PPS system and lead to corruptions. 
For locally hosted PPS databases there are other things to consider, particularly the health of your local network and file permissions. We do not support PPS systems running on a local network any slower than 1GBps and it's important to make sure users have full permissions on the PPS Database as well as their local installation folder. 
See our requirements for local PPS systems here and our general system requirements page here.  
Client names are not showing on the appointments in the diary
If you come to your diary and you cannot see your client names in the appointments, it might be that you have clicked the privacy option on the bottom bar of your diary. 
This feature has been added to the system for client privacy for systems that might be client facing. You only need to click the icon again to show the client names in the diary.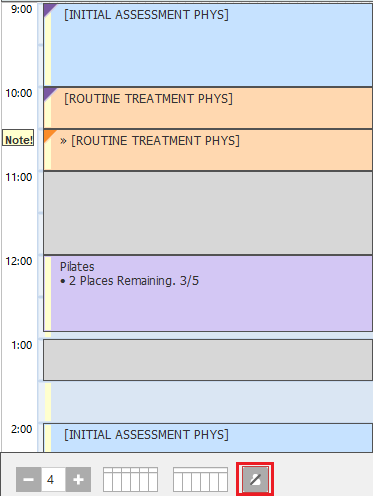 Contacting your Clients in bulk
Changing your opening times? Got an exciting new offer? There are plenty of circumstances where you may want to send out a bulk correspondence to a large quantity of your client base. The PPS Mail Merge facility allows you to do this directly from your PPS system or through MailChimp. 
Third Party Confirmation & DNA emails
You are able to keep third parties notified of bookings and DNA's for clients that have a certain third party associated. This will keep the third party notified of any new appointments or changes to appointments. 
You can have a look at the steps in this guide for setting this up. 
Keeping my system secure
We know how important keeping your data safe and secure is! PPS Hosted and Express users can be assured that the data we store for them is subject to high levels of security and monitoring and that we treat this as a matter of highest priority. 
Within your PPS system we recommend applying stringent access controls so that users only have access to the data they're supposed to, and can only make changes appropriate to them.
Passwords are also key to keeping your PPS or PPS Express system safe and secure! PPS Express users can reset their passwords using the "Forgotten your Password?" link on the login page. A reset link will be sent to the email linked to your login, contact our support team if you're unsure which address this is.
In PPS user's passwords can be made to adhere to different levels of authentication to make them more secure. System administrators can also reset passwords or set them to expire after a certain amount of time to ensure they're changed at regular intervals. 
Should you ever have any concerns that the security of yours system please do not hesitate to contact our support team. 
My PPS is Frozen!
Click the screen, can you see a "Switch To" message in the corner?
Yes! - Likely you've been trying to open something and it's got a little stuck. This is a Windows message to tell you it needs a bit of help. The Alt+Tab command or your device's equivalent should get you through this! 
No! - If you're a PPS Hosted user you may have had some form of drop in your connection and the session has frozen. Hold down Ctrl, Alt, End (or your device's equivalent) and choose Sign Out. You should be able to connect then as normal, but take care as your session will have restarted so anything you didn't save will be lost. 
I'm getting an error!
If you're a PPS user then sticking to a routine of database maintenance should keep your system error free. However, problems may still arise. Should you see a message that concerns you or that you don't fully understand, send our support team a screenshot of whatever it is you're seeing and details of what you were doing at the time and we'll do what we can to decipher and resolve this for you!