If one of your PPS users has forgotten their system password then this will need to be reset by the system administrator. If you're unsure who this user is then navigate to Help > About PPS. Scroll to the bottom of this screen and you'll see the name of your administrator listed.
If the administrator themselves has forgotten their password then you will need to contact our support team quoting your system's PPS registration number. If you're a PPS Hosted user and you or your administrators no longer have record of your sever password then you'll also need to get in touch with our support team so this can be re-sent to you.
This guide will first detail the process of resetting an internal PPS password, and second, resetting an RDP server password for PPS Hosted users.
Resetting an Internal PPS user password
Please note - For any users that have a PPS (hosted or local) system alongside ExpressV2, the login details will be the same for both systems.
The Express login credentials are now drawn directly from your PPS system so any user that requires access to Express will need to be added to the 'User Profile' screen in PPS and the login ID and password added in PPS will then be used to log into Express too.
a. When logged into PPS as the administrator navigate to Tools > Set Up Practitioners and System Users. From the list of users here locate the individual who requires a password reset and double click.
b. Open up the Log In Details tab.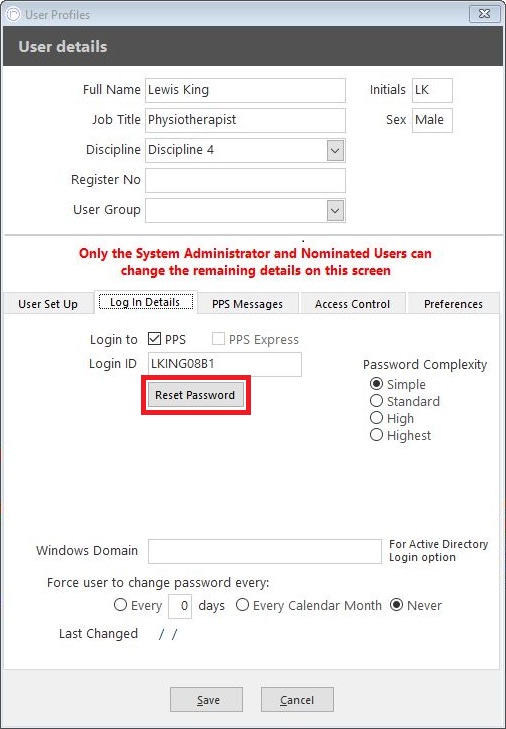 From here you choose Reset Password. Enter the new password twice in the two boxes that appear and choose Change.
Extra Information: In order to ensure that passwords remain secure the user will be asked to reset their own password again when they next come to log in. The password being applied here then is essentially one-use. In all cases, passwords used must not have been used on the system in the past.
If you apply password complexities on your PPS system then the password you apply here, as well as the one later chosen by the user themselves, will need to meet the chosen level.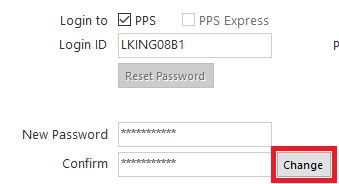 c. Once you've entered the password twice choose Change. Then, choose Save at the bottom of the screen. The user will now be able to log in with their new password.
Resetting Hosted Passwords
If you're a PPS Hosted user who connects to your system via a Remote Desktop Connection then you may wish to reset this password to keep the connection secure.
Note: When we set up new Hosted systems/users we securely store the passwords for you should you ask us to re-send them to you. If you change these passwords we will no longer have record of them and will be unable to send them to you. If this is a concern then you can contact our support team and request that we reset a Hosted password for you.
a. When signed into your PPS Hosted session hold down Ctrl, Alt, End in the same way that you would in the event of a Frozen Session.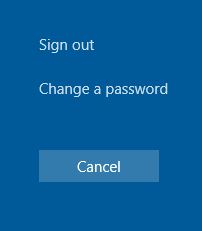 b. Choose Change a Password
c. You'll be presented with a screen in which you'll need to enter the current password and twice confirm the new one. Hit enter once you've entered the new password for the second time to proceed.
Tip: If you do choose to change your password remember to choose a secure password with a minimum length of 13 characters with a mix of numbers and letters. You will not be able to change your password for the first 24 hours after your system has been migrated.