The following guide details the new additions to PPS Express that will allow users to enact GDPR compliance.
Deleting a Client
We've updated the client delete process to make it fully GDPR compliant and to allow you to enact erasure requests. As the delete process is now completely irreversible, with any deleted client data being untraceable after the deletion, a new warning has been created when you choose Delete from the Client Details screen. 
Client Details: Access this screen via the Clients option and search for/select the relevant client.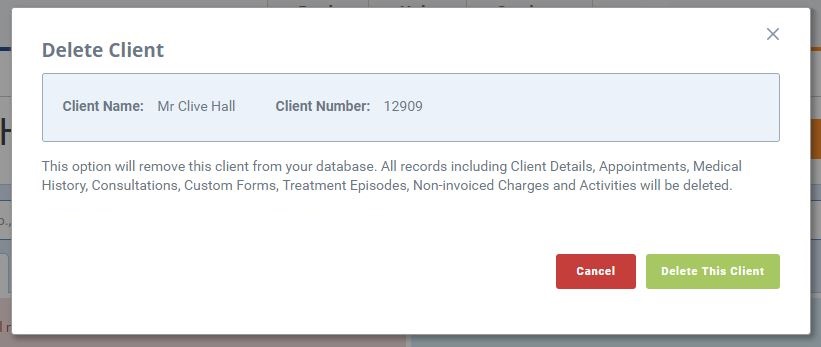 Click Delete This Client to continue. You'll receive one final prompt just to ensure you're happy to proceed with the deletion:

If the client has accounts entries (charges, invoices, payments) then all patient identifiable information will be cleared from them and just the accounting totals and records left in-tact. Appointments, notes, etc. will be deleted in their entirety. 
Exporting Client's Data 
There's now an Export Client Details button at the bottom of the Client Details screen for Access requests. Click this to commence an export.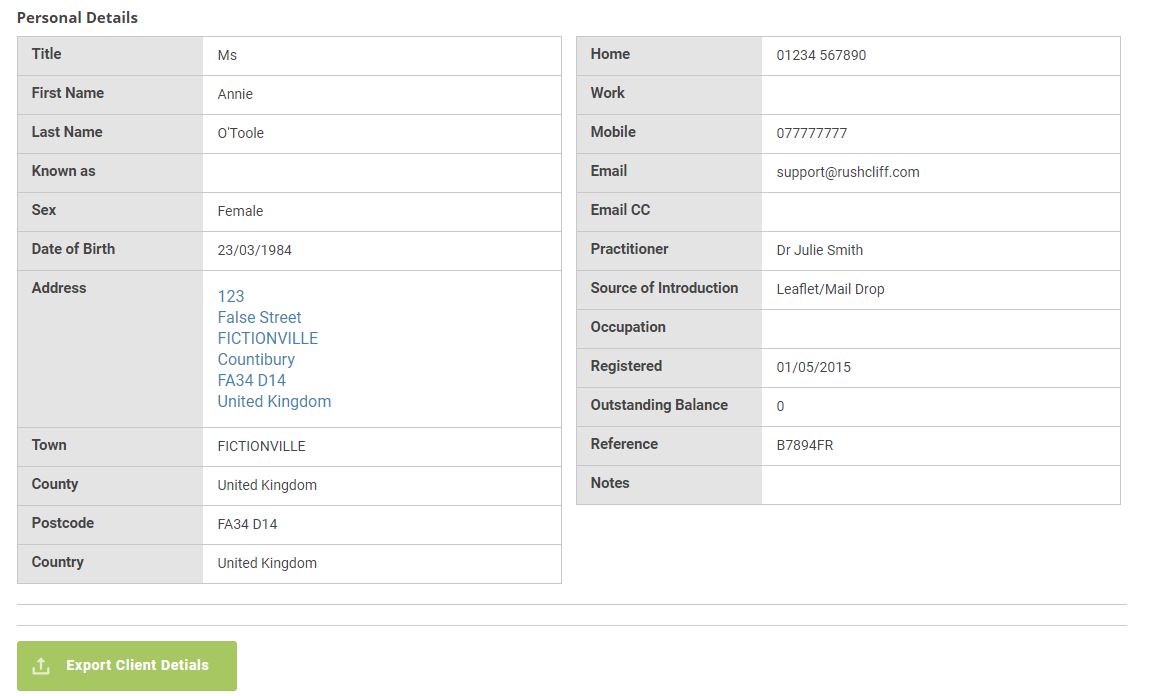 You'll then receive two options:

Create Client Export: Export client data to a human readable format. Clicking this will run the export and then commence a download within your web browser. 
Export as XML File: Export this client's data in a machine-readable format. Once you click this the next screen allows you to filter which elements of the data should be exported.
Excluding Clients from Processing
You can enable the Exclude from Processing filter via the tick box in the Client Details screen. 
The second part of this feature comes via the Reports.  Now, when you run reports with client data you can choose to exclude those clients who wish to be exempt from processing. Once this setting is applied those clients will not be present as results in the report. 

Restricting Clients
Important: Appointments associated to restricted clients will not appear in your appointments diary. If you un-restrict a client their appointments will return, which may result in booking conflicts where appointments have been made in their place.
In the Client Details you can set the client status to Restricted which, once enabled, prevents use, modification, and removal of any of this client's data. This status can be reverted via the same dropdown when required which will make the client file live and changeable once more.