Whereby provides video meeting functionality so that you can conduct video consultations via PPS.
Through the consultation screen in PPS Express you will be able to generate and send a Whereby video consultation request directly to the client.
Important: Please ensure that you and your clients who intend to use this service have access to a webcam and microphone, or a smartphone with such functionality. You may also need to make sure that your web browser's settings allow the webcam and microphone to be activated. For help and tips from Whereby on webcam, microphone and sharing settings please check their guide.
a. Open the consultation screen for the relevant client and select the Start Video Consultation button.
b. You will then see a screen where the selected client and their email address will be showing so that you can send a video link to their email address.

c. The email address will be automatically enabled if the client has an email address entered into the system but if there is no email address you can send the link to their mobile number. Click No Access to Email? and you will be able to enter a mobile number that the link will be sent to.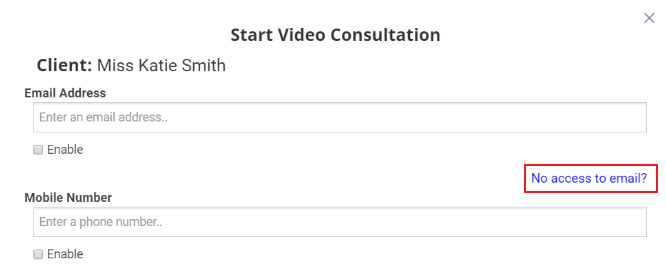 d. You can enter the practitioner's email address in the My Email Address field to have the video link sent to the practitioner. You will see the link on the screen but this can be used if you are sending the link one PC but conducting the video consultation on another or if you are wanting to set the links up now but are wanting to conduct the video consultation later.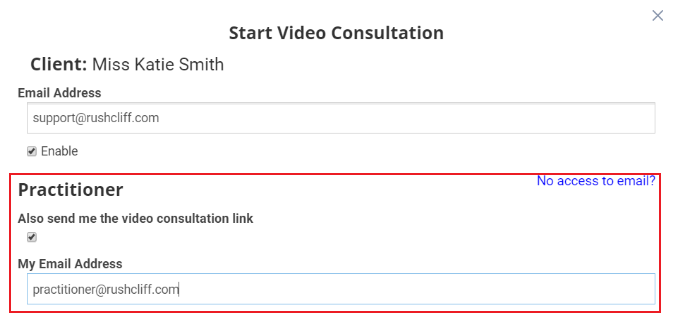 e. You will see a Subject entered. This is only applicable if you are sending an email.
The Content will have the link that the client needs to click to enter the video chat and you can add any instructions for the client to know what to do. This content will be what is sent if you are choosing to email the client or send the link via SMS so the text should be kept short and concise.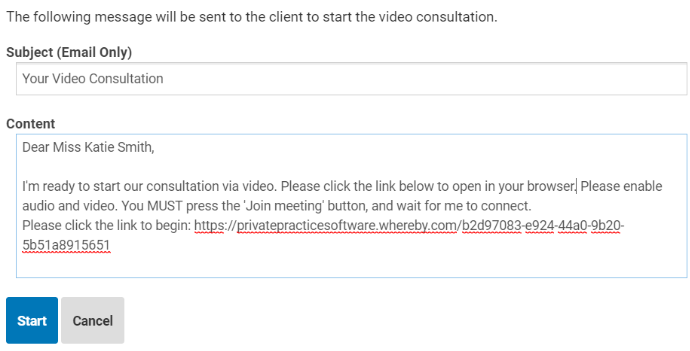 f. Select Cancel to close the screen or Start to go directly to the Whereby Video Consultation. The Whereby consultation will open in the next tab of your browser once you click on the Video Consultation Link.

g. Once the client has clicked on the link that they have been sent they will join you on the screen and can then conduct the consultation.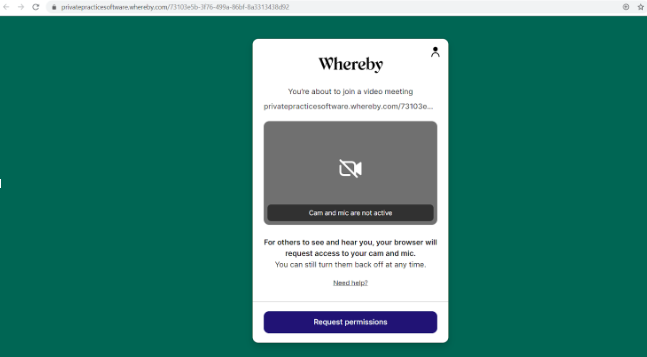 Important: If you are or your clients are having any issues when using Whereby why not have a look at their Support page for some help and tips. Here you can find troubleshooting information as well as information on privacy and security when using Whereby.