Signatures can be recorded in PPS using two types of devices:
- A stylus, pen, or touchpad that uses mouse-input. You can use your usual mouse with this option too.
- Wired Topaz signature pads such as the T-S261-HSB-R and T-S2461-HSB-R. You'll need to ensure you have the Topaz software installed locally and that the sigplus.ocx file is registered. Please note, this option is not compatible with PPS Hosted/Online Systems. 
With either of these options in place you can record signatures using the PPS Custom forms. When building your own custom form you can use the question type Client Signature to add a question that will act as an input area for the client's signature. This question type in itself has two Capture type options:

Basic Pad can be used for the Topaz option mentioned above, and On-Screen for any mouse-style input devices you have on your machine. 
With this question as part of the form you'll have a signature question that resembles the below as part of your form. Click the answer box to proceed with the signature.

For the on-screen, mouse-style input you'll then get a new screen in which the signature should be created using your device.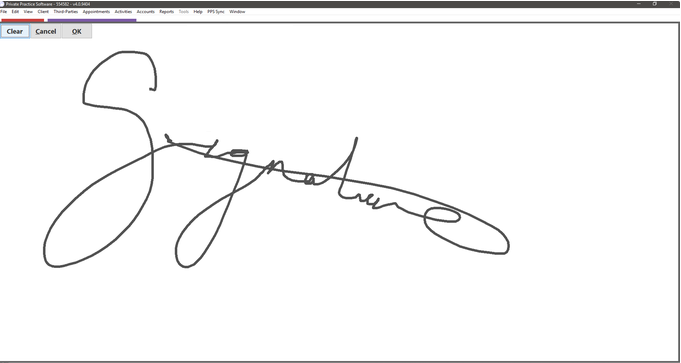 This screen is large but shrinks the signature down to scale once saved so aim to meet the proportions of the box.
Clear: Clear the content of the box.
Cancel: Cancel the signature and return to the form.
OK: Save the signature and return to the form.
From here, once you save the whole form it will be signed off and can no longer be altered.