1. Setting up your RDP manually
When you sign up to use PPS hosted you will receive an email with the login details that will connect you to the server. The email will also contain an RDP icon that can be downloaded and saved directly to your desktop if you use a Windows PC.
Mac and mobile users will need to set up their new RDP connections manually, as will any users who you cannot transfer their pre-built RDP to.
The steps to creating RDPs on Mac, mobile, and PC are detailed in the guides below. Here's where to find the relevant details for each stage of the setup.
Username and Password: Where the server username and password are referenced ensure you're entering your new ppshosted username and the passphrase provided in the email sent with your login details.


PC/Computer Name: Where you're asked to enter the PC, Computer, or Server name use:
[yourppsreferencenumber].ppshosted.com


Gateway: Your new gateway name is:
securegate.ppshosted.com
Setting up an RDP on iPhone/iPad
2. Local IT checks
a. TLS 1.2
You'll need to ensure that your hardware and operating systems meet our Online requirements and that nothing in your local IT infrastructure is blocking your connection to our new Hosted infrastructure.
If you receive an error when trying to connect to the server similar to the image below you will need to ensure that your hardware and operating system are up to requirement. The connection to the new server infrastructure requires TLS 1.2 to be supported on the device you use. Find out more about TLS, what it is and how to check your devices here.

b. Ports & IPs
You will need to confirm the following IP addresses are open:
198.244.193.50
5.135.41.11
5.135.41.12
198.244.193.53
51.89.147.224
51.89.147.225
Gateway IP -

Apps Server (for AM) -
You will also need to confirm that the following port is open:
If you use PPS Hosted you will also need to ensure that the RDP (Remote Desktop Protocol) client that you are using supports gateways. All of the official Microsoft apps do support this and are available on Windows, Android and Apple devices that are running up to date operating systems.
3. Changing Passwords
The passwords cannot be saved when you connect to the server so you will need to enter the password each time you need to log in.
We have set up the passwords as an easy to remember passphrase but if you do want to change the password you can do so when you first connect to the server.
For instructions on how to change the passwords have a look at this guide.
Tip: If you do choose to change your password remember to choose a secure password with a minimum length of 13 characters with a mix of numbers and letters. You will not be able to change your password for the first 24 hours after your system has been migrated.
4. Disconnected and Inactive users
A disconnected session will be logged out after 10 minutes

A disconnected session might occur if you click on the 'x' on the blue bar of your hosted session. This leaves you logged into PPS but your session connecting you to the server has been closed. You will be fully logged out after 10 minutes.
An idle session will be logged out after 3 hours of inactivity
An idle session might occur when you are logged into PPS with the session still open but no activity is being logged in PPS. If the session is idle you will be logged out of PPS after 3 hours.


This has been implemented to keep your PPS hosted sessions secure and the resource allocated accordingly on the server. If any users have any issues with this please contact the PPS Support Team at support@rushcliff.com
5. Minimising and Signing Out of PPS
If you need to minimise PPS to get back to your own computer desktop or other programs you should only use the controls found on the blue bar in the middle of your screen to minimise the session, not the controls in the right-hand corner of the screen.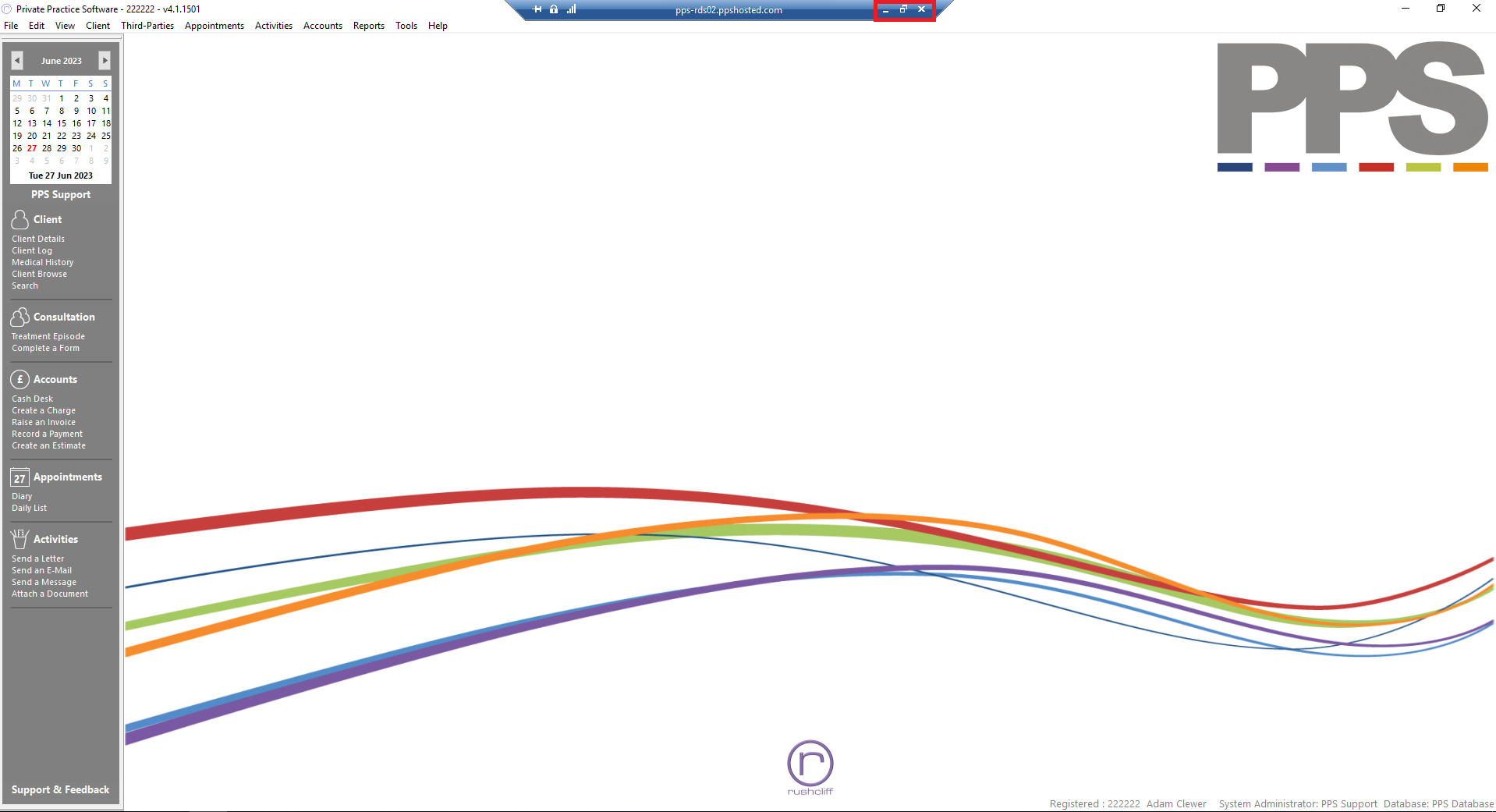 Similarly, if you need to sign out of PPS do not use the controls in the right-hand corner of the screen, instead navigate to File > Exit to sign out of the hosted session fully.
If you log into the hosted session and you do not see the blue bar in the middle like the screenshot above you might need to check that your RDP icon display settings are in full screen and the connection bar is displayed as follows: